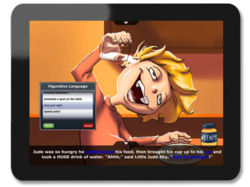 It gets children pumped and excited to interact with books and literature as a whole. What more could an educator ask?
Nogal, NM (PRWEB) November 30, 2011
Pocket SLP, the developers of the popular PocketSLP brand of speech therapy apps, has released a new free eBook Reader App called Pocket Lexi. The app is actually part of a fully developed eBook publishing platform. Along with its growing list of available eBooks and its underlying framework, it offers a creative and full-featured approach to language development. All eBooks published under this framework include interactive features to engage the readers in ways not offered by other reader applications. Pocket Lexi is a free application and has one free eBook embedded to demonstrate it's full range of features.
"Pocket Lexi is the result of many months of research and development," said Corey Walker, a practicing SLP and president of Synapse Apps, the parent company of Pocket SLP and Pocket Lexi. "It has the unique ability to provide engaging, educational entertainment and at the same time, detailed quantitative measurement of a child's language skills."
One series of available books, 'Little Jude Sky's Really Strange Day,' uses an enchanting young boy's exciting adventure to spark the imagination of young readers while focusing on three areas of language development and literacy: vocabulary, figurative language, and reading comprehension. As the child progresses through the book, all interactive activity is recorded in the background. Detailed results of that activity can later be viewed from within the app in either Report Card or Spreadsheet formats.
Each book comes in a Lite and Pro version. The Pro versions are geared toward educators and therapists and include additional features like the ability to use multi-reader sessions, apply comprehension tests, and the ability to send results via email. The email attachments can be loaded directly in browsers, spreadsheet programs, or word processors.
According to Erik X. Raj, Vice President of Marketing and also a practicing SLP, "It brings such joy to my heart to finally hear my children cheer when I tell them we are going to read one of these books. This is what Pocket Lexi does, it gets children pumped and excited to interact with books and literature as a whole. What more could an educator ask for?"
The figurative language focus in the first three books is helpful for those learning about or having trouble with common figurative language phrases. It should be particularly helpful to those with Asperger's Syndrome and other high functioning autistic children.
The eBooks are prepared with professional narrations, but also allow the reader to record and play his or her own voice. During any reading session, the text includes highlighted text that when touched, present the reader with options to either replace the text or explain the meaning of the word or phrase. When the correct word is selected by the reader, both the text and the image changes instantly to reflect the change in content. Audio reinforcements are also played upon selection. Finally, all eBooks include one or more jigsaw puzzles and match games, used only for entertainment.
Because Pocket Lexi is a full publishing platform, the company is also offering to publish eBooks for others. While they have access to professional illustrators and narrators, they will consider original media from the authors.
For a demonstration of the application and its features, download the free application from the App Store, which includes the first book at no cost.
About Synapse Apps:
Synapse Apps, LLC is headquartered in Ruidoso, New Mexico. Its principal focus is on technological tools for speech and language therapy. The company was founded by Corey and Karen Walker, a husband and wife team. Both are practicing speech and language pathologists.
Contact:
Karen-Lopez Walker
Public Affairs,
Synapse Apps
(575) 808-0710
http://pocketlexi.com
# # #