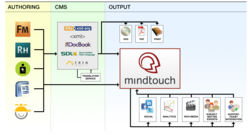 We are replacing static HTML and PDF as the primary help medium with a social experience that taps into the dynamics of the web. We fight for the users.
Austin, TX (PRWEB) November 17, 2011
MindTouch, the provider of exceptional product help experiences, announced at Lavacon this week support for common Componentized Content Management System (CCMS) vendors such as Astoria, DocZone, SDL Trisoft and IXIAsoft.
XML and DITA based CMS's have proven market value by decreasing the cost of authoring, maintaining and translating content. While powerful in lowering costs, CCMS platforms are publishing value laden content into obsolete pre-Web formats such as PDFs, static HTML and first generation knowledgebases.
End users' expectations are higher than ever. Twenty year old static formats are still the primary mediums used today and these fail to meet the needs of end users. Recent studies (Greenfield Online, Datamonitor, Ovum Analysts and Genesys) estimate the failure to meet customers' support needs is the primary cause of customer churn and this creates as much as $83 billion of annual losses caused by product abandonment.
Companies like Autodesk, Paypal, Intuit and thousands of others, have turned to MindTouch. As of this week, MindTouch now enhances CCMS investments by creating a publishing end point that offers users a social, collaborative and analytics rich environment for end users. Now, CCMS's can create revenue and customer engagement. MindTouch offers effortless product help anywhere, anytime in the form of a social help center for customers, a social knowledgebase that integrates seamlessly with support ticketing and an in-product help system.
"MindTouch is offering a new social publishing endpoint for help and product content," said Aaron Fulkerson, CEO of MindTouch. "We are replacing static HTML and PDF as the primary help publishing medium with a social experience that taps into the dynamics of the web. We fight for the users."
In seconds CCMS users can now publish tens of thousands of their product and knowledgebase articles into a MindTouch powered social help center. Hierarchies, cross-link references, image and page formats are maintained and/or created in real-time. Content is automatically organized by tags, metadata and hierarchy. Content is indexed by a powerful search tool. Users are accelerated to expertise with auto-related topics, tutorials, videos and content from support ticketing. A variety of feedback mechanisms encourage customer engagement. Furthermore, behavioral analytics inform content, product, sales and marketing strategy corporate wide.
Product managers value MindTouch because it enables great user experiences, improves user adoption, and allows them to better understand how users utilize products. Support teams can effectively target and address support hot spots in record time with support ticketing integration. Technical writers and content strategists know precisely where and how to improve content and love the in-product help system that allows them to fix documents in real time, run sophisticated analytics, and dynamically organize content without tedious manual work.
MindTouch collaborated with the Gilbane Group, the Society for Technical Communicators (STC), customers and several industry experts to develop a toolkit that provides a "how-to" for repurposing Componentized Content Management Systems (CCMS's) by adding a social publishing layer. This benefits your users in profound and measurable ways. If you use a CCMS and care about your users, you will want this toolkit. Download the Socializing your CCMS toolkit.
About MindTouch
An enterprise collaboration leader since 2005, MindTouch converts users into experts with a cloud based social help center that includes a knowledgebase with support ticketing integration and a help button that can be added to any web application in minutes. Millions use MindTouch every day.
Great companies like Cisco, Intuit, Paypal, Autodesk, Hewlett-Packard, Mozilla, HTC, Viacom, Panasonic and EMC rely on MindTouch. Learn more at http://www.mindtouch.com.
###