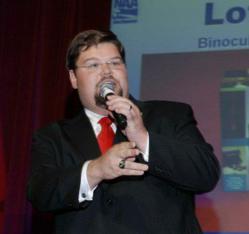 "Indiana is in the center of the country and, in many ways, the center of our auctioneering tradition. It is a great honor to be the Indiana Champion and a memory I will always cherish."
Columbus, Ohio (PRWEB) November 17, 2011
Peter D. Gehres, Auctioneer, was named the 2011 Indiana Champion Auctioneer on November 4, 2011 at the Indiana Auctioneers Association Convention in Indianapolis, Indiana. A field of 15 experienced auctioneers from across Indiana and surrounding states competed for the title. Judges for the 2011 Championship included National Auctioneers Association President Christie King, AuctionZip.com Founder Steve Johnson, National Auctioneers Foundation Trustee Jack Hines and former Indiana and Ohio champion auctioneers including T.J. Freiji, Jack Christy, Jim Lestinsky and Jason Miller.
This was the first time Gehres competed in Indiana Championship and the 16th professional contest he has entered. Previously Gehres won the Ohio Junior Bid Calling contest in January 2006, the Michigan Auctioneer Championship in 2010 and has placed in the top 15 in the National Auctioneers Association International competition.
Gehres is a first generation auctioneer and Realtor based in Columbus, Ohio. He is the Vice President of Auction Operations for United Country Gryphon Realty & Auction Group, the president of Belhorn Auctions and the co-founder of The Super Auction; a multi-state auction event held each year in Michigan. Peter is also a professional speaker and instructor at The Ohio Auction School, Reppert School of Auctioneering and numerous state and national conventions.
"In 2012 I look forward to representing Indiana at both the International Auctioneers Championship in Spokane, WA and the World Automobile Auctioneers Championship in Orlando, FL," Gehres said. "Indiana is in the center of the country and, in many ways, the center of our auctioneering tradition. It is a great honor to be the Indiana Champion and a memory I will always cherish."
Gehres and his wife Paige are expecting twin boys in December 2011. In addition to his professional activities Mr. Gehres is an active volunteer and supporter of the FFA, 4-H and Junior Achievement.
About United Country – Gryphon Realty & Auction
United Country Gryphon Realty & Auction Group is the Central Ohio affiliate of the largest fully integrated network of conventional real estate and auction real estate professionals in the United States. Based the Polaris Area of Columbus, Ohio, the company is a subsidiary of Gryphon USA, a multi-faceted asset management and liquidation firm focusing on the operations and dissolution of single assets through and including entire companies. The company maintains a real estate brokerage practice, auction group, property management division and appraisal division. Co-founders Richard and Melissa Kruse also regularly hold engagements as court appointed receiver throughout Ohio.
About Belhorn Auctions
Belhorn Auctions is a recognized leader in American Art Pottery and other Americana offering expert appraisals as well as a full calendar of live, online and hybrid auctions across the Mid-West.
###