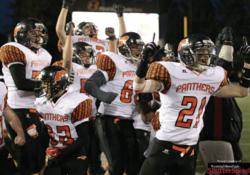 I have no doubt that the safe and forgiving surface helped us maintain a higher degree of physical health and stamina during our grueling playoff schedule.
Powell, WY (PRWEB) November 16, 2011
After choosing Hellas Sports Construction for a multi-million dollar contract to install a football stadium complete with synthetic turf, track, bleachers, concessions and more, Powell High School managed to snag the football state champion title on Friday. The Panthers were able to defeat the three-time state champion and No. 2 ranked Douglas (also a Hellas customer) for the 3A state football title at War Memorial Stadium.
Head Football Coach, Jim Stringer is thrilled with the win and is extremely excited to start the 2012 season on his new Hellas synthetic turf. He comments, "As we made the push into our 2011 playoff season in Northern Wyoming the ground was freezing and the grass was dead, leaving us with very poor practice surfaces on which to prepare for our run at the state title. Thanks to the dedication and work ethic demonstrated by our friends at Hellas we were able to get onto our new turf field to complete our last three weeks of practice."
"I have no doubt that the safe and forgiving surface helped us maintain a higher degree of physical health and stamina during our grueling playoff schedule. Our players were excited to go out onto the turf to practice hard and prepare for the most demanding part of our season."
Hellas was chosen by the Park County School District to manage a variety of improvements for Powell High School including demolition, earth work, synthetic turf, track, field event construction, bleachers, irrigation system, concessions remodel, asphalt paving, stadium lighting and more. The natural grass field was replaced with a synthetic turf system, and a new fence surrounding the facility was also added to enhance security.
Hellas coordinated the project with Sports Facility Specialist Don Smith, along with Bruce Perryman of AVI Engineering who commented, "The district's goals of designing, bidding and constructing the project in a single season were very ambitious."
"The district chose Hellas as a highly motivated, proven contractor extremely well versed in track and synthetic turf facility construction. Hellas' knowledge and ability to keep critical work tasks on schedule has resulted in the district achieving their project goals. Hellas became a critical team member, along with the entire AVI design team and the district staff in successful completion of this first class facility."
Todd A. Wilder, Coordinator of Support Services for Park County School District No. 1 is very pleased with Hellas Sports Construction and stated, "It has been an enjoyable experience working with Hellas. They invested an immense amount of time and resources in this project."
About Hellas Sports Construction
Headquartered in Austin, TX, Hellas is one of the largest sport contractors in the United States. While specializing in the general construction of sports facilities and synthetic surfaces, Hellas also champions innovative turf manufacturing, base construction, field, track and tennis installation and maintenance. Notable clients include the Dallas Cowboys Stadium, the Cotton Bowl, Baylor University, Idaho State, the Alamodome and Northern Arizona University. Hellas controls all business processes to take its products straight to the end-user including marketing, sales, quality control and project management. For more information visit HellasSportsConstruction.com.
Partnering with legendary materials manufacturer, Royal TenCate, Hellas is positioned for continued success. TenCate Grass develops and produces synthetic turf components and designs systems for top-flight sport, recreation and landscape applications.
Together with its partners, TenCate Grass strives to achieve a system approach. This gives users confidence in playing characteristics and lifespan. TenCate Grass has production facilities in Europe, the Middle East and North America.
###