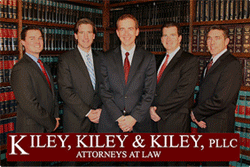 As a multi-generational family business, we're strongly rooted in legal history and precedent, but also attuned to the evolution of the law and its future...
Great Neck, NY (PRWEB) November 21, 2011
In the spirit of generosity that defines the season, the family of attorneys at Kiley, Kiley & Kiley PLLC in Great Neck, talk about the value of social media for attorneys and offer some light-hearted advice to holiday hosts and hostesses who want to avoid litigation.
"As a multi-generational family business, we're strongly rooted in legal history and precedent, but also attuned to the evolution of the law and its future," says attorney Jim Kiley, spokesperson for the Great Neck law firm of Kiley, Kiley & Kiley, PLLC. "A big part of the future that our colleagues in the bar must embrace is the idea of serving their clients more effectively through the use of social media."
Kiley, Kiley & Kiley PLLC is a full-service law practice that has served clients in New York, Westchester, and Long Island for more than 35 years. Founder Donald T. Kiley, and his sons have more than 70 years' of combined trial experience with expertise in personal injury, medical malpractice, employment discrimination, real estate, business transactions, estate planning, estate administration, matrimonial and general legal matters.
The Law & Social Media
"Today, a website is just one aspect of a law firm's online visibility." says Kiley. His firm posts regularly to Facebook, Twitter, and LinkedIn, and has a library of videos uploaded to YouTube, as well as links to all sites from its homepage. "Statistics show that consumers trust the information they locate online," says Kiley. "If a business doesn't have a presence and positive reputation on the Internet, consumers are likely to wonder whether it is legitimate."
Kiley points to a study by the Pew Research Center that found 78% of consumers rely on ratings and reviews in making purchase decisions. An article in Law Practice Today, the webzine of the American Bar Association's Law Practice Management Section, further validates the importance of social media:
"Empowered by the deep pool of resources available online, consumers and corporate counsel alike are inclined to educate themselves about various legal issues through blogs, online video and conversations in online community sites before they even compile a list of potential lawyers."
Attorneys who advertise are still often viewed with skepticism by consumers. "That's why social media posts should educate people with regard to their legal options, not hard-sell them on legal services," explains Kiley. "The goal is to establish trust and build relationships with people in the community we serve...at holiday time and throughout the year."
8 Tips to Ensure Holidays Are Jolly Days
Kiley, Kiley & Kiley, PLLC wants everyone to have a safe, happy holiday season. "It's always nice to welcome friends and family to your home, but there are risks involved," observes Kiley wryly. "So we recommend that everyone take necessary precautions to avoid these legal entanglements:

Sacher Torte Tort - Serve a sinfully rich, luscious dessert and you may find yourself accused of 'mental cruelty' by calorie-challenged guests at your table who can't resist sweets. Serve sugar-free gelatin instead.
Alienation of Affection - A misplaced sprig of mistletoe can lead to more than just a kiss. Decorate with holly to keep your guests out of divorce court and yourself out of civil court.
Dipso Facto - Unless you want to be liable for your guests' dry-cleaning expenses, make sure your chips can stand up to your dips.
Plea Bargain - Establish a firm bedtime for the kiddies or run the risk of a long night of plea bargaining that would put a D.A. to shame.
Flying Under the Influence - Leave out a little 'nip' to help Santa ward off the cold, and you'll be amazed at how much big damage eight tiny reindeer can do. Milk and cookies are a safer option.
False Arrest - If you don't want to be known as "the person that sent Santa to jail," remember to turn off your alarm system when you hear footsteps on the roof. (Just make sure it's really Santa up there!)
Order to Show Clause - Don't promise your children that Santa Clause is coming to town - be prepared to produce him or face the consequences!
On a more serious note, Kiley does urge hosts and hostesses to remember that they do have responsibilities to their guests. "Take time to clear the ice off driveways and walkways and to cover any dangerous electrical connections indoors. Have the phone number of a local taxi service available for anyone who might not be able to drive home," he suggests. "That way your holidays will be filled with celebration, not litigation."
About Kiley, Kiley & Kiley, PLLC
The attorneys at Kiley, Kiley & Kiley, PLLC have been providing expert legal guidance to clients in New York, on Long Island, and in Westchester for over 35 years. A family business, Kiley, Kiley, & Kiley is a full service law firm practicing in all areas of personal injury, medical malpractice, employment discrimination, real estate, business transactions, estate planning, estate administration, matrimonial and general legal matters. Their motto is "Let our family help your family." For more information or to schedule a consultation, please visit http://www.kileylawfirm.com/
# # #