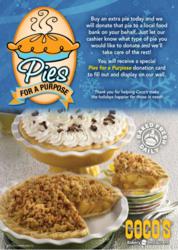 Carlsbad, CA (PRWEB) November 17, 2011
Coco's and Carrows restaurants, both part of the Catalina Restaurant Group, will once again provide thousands of fresh-baked pies to those in need through their annual Pies for a Purpose charitable initiative. Customers at these popular dining establishments--including 121 Coco's and all 67 Carrows locations--will have the opportunity to purchase fresh-baked pies for donation to local food banks in California, Nevada and Arizona.
Fresh-baked pies from Coco's and Carrows have become a holiday tradition for thousands of families and their loved ones. Now, restaurant diners will have a chance to sweeten the holiday season by donating "fresh from the oven" pies to those in need. Charitable givers will be recognized with "donation pie" placards prominently displayed in each restaurant. Coco's and Carrows will bake the donated pies for pick-up by local food banks.
Baked fresh every day, a holiday is not complete without a homemade pie from Coco's or Carrows adorning the table. The Pies for a Purpose program allows guests to bring the delicious, comforting warmth of a holiday pie to those less fortunate in their community.
To support the Pies for a Purpose program, special holiday deals are being offered at all Coco's and Carrows locations, including:

Our scrumptious Pumpkin Pie for only $6.99 (Coco's and Carrows)
Our signature Harvest Pie, a treasured mainstay for more than 20 years (Coco's)
* A wide selection of other holiday favorites, including the Dutch Apple Pie (Coco's), Pecan Pie (Coco's and Carrows) and other seasonal favorites
As more Americans rely on charitable donations and hunger relief organizations to provide for their families during these tough economic times, Coco's and Carrows restaurants—through the generous support of their customers—are filling a much-needed gap by contributing pies to more than 70 food banks in the Western states.
"At a time when one in six Americans, and nearly one in four children, struggle with hunger, we all have neighbors who are suffering," says Sue Sigler, executive director of the California Association of Food Banks. "Having a pie as part of a holiday dinner is very meaningful in those homes. We are very grateful to all of those who choose to share with others in need."
About Carrows:
For nearly half a century, Carrows Restaurants (http://www.carrows.com) have been part of the family dining landscape in the West, earning a reputation for consistent values, superior service and delicious comfort. A place where "our family serves yours," Carrows' menu was developed by "Family Value Chef" Heather Gardea. Her training at the Culinary Institute of America is reflected on a hearty griddle and steaming skillet, and in power breakfasts, juicy burgers, fresh salads, mouth-watering melts and Build Your Own Mile High® sandwiches. Carrows' dinner selections include the famous Weekend Prime Rib selections, as well as seafood, pasta, chicken and sirloin combos. All of which are available at 80 locations throughout California and Nevada.
About Coco's Restaurant & Bakery:
It all began in 1948, with one little restaurant along Pacific Coast Highway in Orange County, Calif. Today, there are more than 85 Coco's Restaurant & Bakery (http://www.cocosbakery.com) locations throughout California, Arizona and Nevada. More than just a restaurant offering signature entrees, soups and salads created by 'Family Value Chef" Heather Gardea, Coco's is a bakery that prides itself on delivering the tastiest, most mouth-watering, fresh-baked pies, cakes, muffins, cookies and biscuits.
###