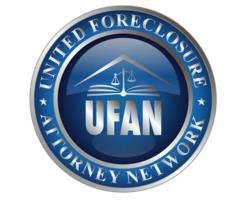 These communications will help all attorneys in the field bring the best causes of action.
Roseville, California (PRWEB) November 16, 2011
According to Kristin Crone, Attorney and CEO of United Foreclosure Attorney Network (UFAN), "A joint effort on behalf of homeowners across the United States will give homeowners the best chances for success. The banks can afford to hire a team of attorneys to fight for them. We are trying to create a similar effort on the borrower side of the litigation without the cost to the homeowner."
UFAN is developing a forum for attorneys practicing in the area of mortgage litigation. When fully functional UFAN will publish new causes of action and other related legal materials for attorneys to use in their fight for homeowners. Furthermore, the private attorney forum allows attorneys to communicate about current events in mortgage litigation. This communication will help attorneys know which legal theories are working and which are not. "The hope is that these communications will help all attorneys in the field bring the best causes of action and give their clients the best fight possible," says Ms. Crone.
UFAN is also giving consumers a voice in the development of its public forum. Borrowers and property owners can communicate about the problems they are facing and the actions they have taken. Attorneys who are part of the private attorney forum are free to join the consumer conversations in the public forum. Borrowers will also have access to a list of attorneys who use the UFAN attorney forum. "The hope is that open discussion will generate ideas that will help in the fight. We can also help connect borrowers to local representation by listing the attorneys involved with the forum. This is not a referral service, but rather a way to disseminate information," says Ms. Crone.
According to Ms. Crone, UFAN would like to represent every homeowner across the country, but this is simply not feasible. UFAN's main focus is achieving justice for borrowers and property owners – even if UFAN is not able to bring every fight. "If UFAN can assist in a coordinated effort for justice, we have served our purpose," states Ms. Crone.
Join today, click here.
ABOUT THE UNITED FORECLOSURE ATTORNEY NETWORK
UFAN Legal Group, PC dba United Foreclosure Attorney Network (UFAN) is a Roseville, California-based law firm providing mortgage litigation and other debt related legal services. The dedicated attorneys and staff at UFAN work tirelessly to seek justice and fight for the rights of its clients. For more information call toll free 1-866-400-4242.
This release may constitute attorney advertisement. The information in this release and on the UFAN website (ufanlaw.com) is for general information purposes only. Nothing in this release or on the UFAN website should be taken as legal advice. Prior successes are no guarantee of future performance. Litigation is inherently uncertain and results in litigation are never assured.
# # #