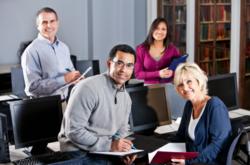 I left the Financial Recovery Course feeling less stressed and more confident. For the first time in my life I had a clear financial plan that I believe I can follow.
Irvine, CA (PRWEB) November 17, 2011
The National Financial Educators Councils' (NFEC) Financial Recovery Coursework received positive post-test and survey results after initial testing of their adult financial literacy program. Additional measurements are being conducted to quantify the graduate's longer-term change in behavior.
The NFEC's recently expanded financial literacy product line now includes adult financial education with an initial emphasis of helping those going through financial challenges. "With the current economic situation there are many people that are struggling to make ends meet. The NFEC designed the adult financial literacy coursework to empower people with the skills they need to recover from their current financial situation and help them regain hope for their future," state Cecile Abad of the NFEC.
Graduates of the initial NFEC adult financial education classes faced a variety of financial challenges. High debt, housing issues, lack of savings and unemployment plagued many of the initial participants. The aforementioned issues were addressed throughout the coursework and during individual counseling sessions. Upon completing the personal finance coursework participants reported they were 'more confident' about handling their financial situation and had a clear game-plan to address their main challenges.
To achieve these initial results the NFEC brought together a curriculum design team which is made up of educators and financial professionals. The stated goal was to create material that meets educational standards while being practical in nature. The design team understands many of the common issues people are facing through one-on-one interviews with over 50,000 people across the country and review the personal financial statements of over 20,000 individuals.
The NFEC's Financial Recovery Coursework includes interactive presentations, virtual learning center and live instruction. All material is provided in a turnkey format for those individuals and organizations looking to teach financial literacy to adults. Comprehensive training is also provided to ensure educators are able to teach financial literacy effectively.
The National Financial Educators Council is committed to providing a practical financial education to people of all ages. The NFEC's Financial EduNation resource centers serve all ages and provide turnkey solutions to organizations looking to share the message of financial literacy. As a part of the Revive the American Dream Movement, a financial literacy campaign founded by the NFEC, those organizations that currently serve active-duty military and veterans receive the adult financial literacy material complimentary.
###