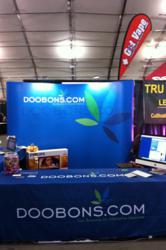 San Francisco, California (PRWEB) November 17, 2011
The new face of the medical marijuana industry has made its long awaited debut. DOOBONS.COM made a huge splash at the San Jose HempCon trade show 11/11/11. "We expected to fly slightly under the radar at the San Jose show," said owner and founder John. This, however, proved to be impossible as soon as the doors opened. The organizers of HempCon watched as the DOOBONS booth was literally mobbed with people from the beginning of the show to the end. "We had three computers going at the same time and still had lines to all of them!"
DOOBONS.COM extends to a broader audience of professionals in addition to the medical community and their patients. The founder realized the need for a medical marijuana (MMJ) website with a much wider demographic appeal through his family's efforts to make a close family member more comfortable in his fight with stage 3 lung cancer and a brain tumor. "The road was not easy," said John, "We tried to navigate this industry with a recommendation from a Kaiser oncologist stating our loved one's condition and an authorization for him to use MMJ if he so chose. John states, "Even with this letter from the oncologist on Kaiser letterhead we hit road block after road block." This was the conception of DOOBONS.COM.
The DOOBONS team wants to provide a professional website for those who are not familiar with this industry, are house bound due to illness or are caregivers for these patients, in addition to the entire MMJ community. Up to this point, the websites that have been available have an abundance of information but are challenging to navigate. DOOBONS believes the medical community needs to see a much simpler format and user-friendly interface. The company has successfully delivered a product that allows its target audience to feel confident with the site they are using and free of any concern of the taboos associated with the MMJ industry. DOOBONS' goal is to represent the uplifting professional side of this industry and to remove the taboo forever.
DOOBONS has teamed up with doctors and registered nurses to provide more information to this new emerging audience. The site has a multitude of perks from a coupon system that delivers visitors daily deals in specific areas (no fee) to blog opportunities, geo-targeting, GPS tracking, a locator, and extremely low pricing for advertisers. In addition, the iphone app is soon to launch.
To read about the remarkable story of the family member that spawned this company, visit the DOOBONS blog.
The future of the MMJ industry is here! Meet the owners at the Anaheim Kush Expo trade show this weekend!
"It was such a pleasure to meet both of you at HempCon on Friday. I feel very moved by your cause and, as a MMJ patient battling Chronic Lyme disease, I truly believe there is a dire need for your website in this community. Your personal blog about your father is a story of triumph, and the fact that your family is giving back to cancer research while your father still faces his own battles is so admirable." ~Alexis
The MMJ industry has been in dire need of a new fresh face with an uplifting format. The founder is dynamic and passionate about his work in this industry. Don't miss a chance to meet John. He is one of a kind!
contact: info(at)doobons(dot)com
###