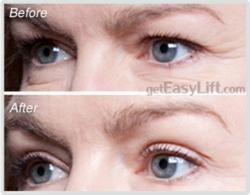 EasyLift provides a quick, easy, and inexpensive solution for those who want a quick upper eye lift and don't want to go through eyelid surgery.
Calabasas, CA (PRWEB) November 22, 2011
EM Innovations, Inc. offers a new anti-aging product that provides a non-surgical solution for those in need of an eyelid lift. EasyLift allows people with sagging, hooded, or drooping eyelids to instantly achieve a non-surgical eye lift at a low cost.
"EasyLift provides a quick, easy, and inexpensive solution for those who want an upper eye lift without going through eyelid surgery. I hope this product can help others as much as it has helped me," says inventor and co-founder Cecily Heavenridge.
The product is designed to gently shape, lift, and redefine eyes by adding support to drooping skin above the eyelid. Droopy eyelids can cause a tired, heavy look and give the impression of premature aging. Although similar to eyelid tape, EasyLift is different. Gel is applied to an adhesive backing on a comfortable, hypoallergenic, transparent material in a shape matching the curvature of the eyelid. The gel allows for perfect placement and easy removal, without evidence of the product being worn. Each box of EasyLift contains 64 lifts (1 month supply) and can be used daily or for special occasions, photographs, or makeovers. EasyLift is used by many makeup artists, and in some cases, for medical conditions such as ptosis. EasyLift can also be used to even out the eyelids if only one eyelid droops.
Droopy eyelids are a common issue among aging men and women, many of whom opt for cosmetic eyelid surgery to correct this problem. Eyelid surgery procedures are often associated with high cost, long recovery times, and potential complications. EasyLift offers an affordable, non-surgical alternative to these procedures.
The EasyLift Instant Eye Lift is available at http://www.geteasylift.com for $19.99. EM Innovations, Inc. was formed in 2010 to offer an eyelid cosmetic for those with drooping upper eyelids. The company has plans to release additional products to beautify the eyes and support a vibrant, younger look without the need for surgery.
###