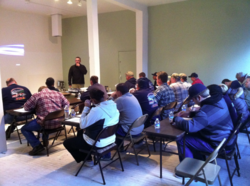 FireWhat is able to bring the local factors firefighters in this area see daily, and use them to tailor nationally standardized classes to particularly common scenarios.
Dunsmuir, CA (PRWEB) November 23, 2011
Dunsmuir, CA is a town of 1,600 at the base of Mt. Shasta, in northern California. FireWhat Inc., located in this small town, is working with the College of the Siskiyous in nearby Weed to boost the training provided to local fire departments.
The Dunsmuir fire department has been continuously run since 1897, and averages over four hundred calls a year. Technology, tactics, and tools have certainly changed over the past century. The firefighter training needs of today far exceed those of previous generations. Here in Dunsmuir, the department's members have finished Pump Operations and EVOC (Emergency Vehicle Operations) over the past two weeks. As one of the few stations responding to incidents within the Sacramento River Valley Canyon, plans are underway for additional training in Swiftwater Rescue and Train Rescue Operations.
FireWhat, Inc., and the qualified instructors in their employ lead classes. The company, a website resource for firefighters, has begun teaching firefighting classes in-house, resulting from local demand for firefighter training. Emergency Vehicle Operation and Pump Operations are not required courses, nor does it expire, but the Department of Transportation recommends refresher courses taken every four years.
Get your department trained, keep their skills sharp. Accidents happen all the time: Don't let a member of your department become an incident within an incident. As we all should know, complacency kills people, and especially in the emergency response industry. For more information about what FireWhat can do for your department, call (530) 235-4419, check out our website for firefighters, or email FireWhat at info(at)firewhat(dot)com.
About FireWhat Inc.
FireWhat Inc. is a start-up company founded by an MIT grad and two professional firefighters. FireWhat's mission is to provide a professional platform that inspires the highest quality of emergency service training and education. Through development of web and mobile products, FireWhat Inc. seeks to update the antiquated delivery of emergency services training and to incorporate innovation into a technology-deprived industry.
###