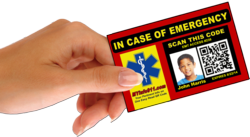 Palm Coast, FL (PRWEB) November 23, 2011
According to the American Academy of Pediatrics, (AAP), approximately 3.5 million children ages 14 and under get hurt annually participating in sports or other recreational activities and around 21% of all traumatic brain injuries occurring in that age group are attributed to such activities.More than 775,000 are treated in emergency rooms each year.
Myinfo911 knows that Boy Scout members are among the most active children of all, participating in such diverse activities as swimming, hiking, horseback riding, camping, and various organized sports. Even more rigorous activities such as climbing/rappeling, sledding,and scuba diving are very common practices today. MyInfo911 research shows that children benefit greatly from their participation in scouting and that scouting leaders go to great lengths to provide as safe environment as possible for their charges. Yet in spite of all best efforts, there are a myriad of injuries, some very serious and even life threatening, that can and do occur. These children also deal with a higher than average incidence of such things as insect bites, snake bites, contact with poisonous plants, etc., and becoming ill in settings away from home.
In the case of medical emergency, Myinfo911 provides scouting leaders and other first responders the means to gain immediate access to victim's specific medical history, including pertinent information such as blood type, allergies and specific medical conditions so that quick and accurate care can be given the child. In addition, this great new product also immediately and automatically sends a notification to the childs parents alerting them that the childs card has been activated.
About MyInfo911
Started in October 2010, MyInfo911 provides emergency identification cards that use QR codes to provide pertinent medical history information to first responders and other medical providers. The Palm Coast, Florida based company's cards have the person's picture, name and QR code on the front and the person's name, year of birth, emergency contact, blood type, allergies and specific medical conditions on the back. For more information visit http://www.myinfo911.com
Media Contact:
Gina Jersey
Gina(at)MyInfo911(dot)com
386-445-2727
###