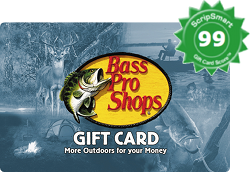 We have worked very hard to create a gift card program that is consumer friendly. We're pleased ScripSmart...recognized us as one of the friendliest gift cards available.
Las Vegas, Nevada (PRWEB) November 17, 2011
Gift cards are once again set to be a holiday favorite with consumers. The Bass Pro Shops® gift card program has received top marks from consumer gift card rating service ScripSmart®. Both Bass Pro Shops' traditional plastic gift card and virtual e-gift card have received a Gift Card Score® of 99; the company is the first to obtain a 99 for both a physical and electronic gift cards. There are no other retailers of gift cards with a Gift Card Score higher than 99 and over 600 gift cards from leading national merchants have been rated by ScripSmart.
ScripSmart's Gift Card Score is generated by an algorithm, based on a 100 point scale and reflects the overall consumer friendliness and usability of a gift card. ScripSmart's founder, Judd Lillestrand said: "Just five gift cards currently have a Gift Card Score of 99 and Bass Pro Shops represents two of those five." Mr. Lillestrand continued, "Not all gift cards are created equal; we developed Gift Card Score to help consumers easily identify the best gift cards. Bass Pro Shops is a leader when it comes to offering consumers a best of breed gift card." There are over 30 factors included for each Gift Card Score including expiration dates, fees, balance inquiry options, replacement policy and redemption restrictions.
Greg Thompson, Bass Pro Shops Corporate Incentives Manager said "We have worked very hard to create a gift card program that is consumer friendly. We're pleased that ScripSmart is offering this service to consumers and have recognized us as one of the friendliest gift cards available". Bass Pro Shops Gift Cards never expire, have no fees, offer free online shipping and can also be redeemed at Big Cedar Lodge, Top of the Rock restaurant, Hemingway's Blue Water Cafe, Islamorada Fish Company restaurants and even towards a boat purchase or service through Tracker Marine.
About Bass Pro Shops®
Bass Pro Shops® operates 58 retail stores in 26 states and Canada visited by over 112 million people annually. Bass Pro Shops® also conducts an international catalog and internet retailing operation, American Rod & Gun® wholesale division sells to over 7,000 independently owned retail stores worldwide. Outdoor World® Incentives also sells Bass Pro Shops® gift cards through over 132,000 retail outlets across America. The Bass Pro Shops® restaurant division with 26 locations. The company's Tracker Marine Group® (http://www.trackerboats.com) manufactures and sells Tracker®, Nitro®, SunTracker®, Tahoe®, Grizzly® and Mako® boats through Bass Pro Shops® retail stores and over 400 dealers worldwide. The Resort Group (http://www.bigcedar.com) includes Big Cedar Lodge® and other resort properties including restaurants and golf courses. For more information regarding Bass Pro Shops® store locations, products or special events, please visit http://www.basspro.com. To request a free catalog, call 1-800-BASS PRO. Follow us on Facebook at http://www.facebook.com/bassproshops.
About ScripSmart®
ScripSmart, Inc. (http://www.scripsmart.com) is the most comprehensive consumer guide to gift cards. The company reviews and ranks gift cards based on features, limitations and financial stability. Each gift card review on ScripSmart is supplemented with a Gift Card Score, a 100-point scale, reflecting the overall consumer friendliness of a gift card program. The company also offers free services to alert consumers of expiration dates, bankruptcy filings and allows consumers to share their most desired gift cards with friends and family. ScripSmart's mission is to make gift cards better.
###