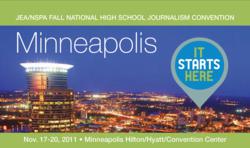 It is an honor to support this year's JEA/NSPA convention in Minneapolis and the educational opportunity it will provide to students and teachers with a passion for journalism.
Minneapolis, MN (PRWEB) November 17, 2011
Minneapolis-based Jostens is proud to welcome the Journalism Education Association (JEA) and the National Scholastic Press Association (NSPA) to the Minneapolis Convention Center for the National High School Journalism Convention, November 17-18. Jostens is an annual sponsor of the convention and is excited to support Minneapolis in hosting approximately 4,000 high school yearbook and newspaper journalists and advisers from across the U.S. Attendees will participate in workshops and learn best practices from recognizable local and national journalism experts, including eight instructors from Jostens. As a leader in yearbook and journalism education, Jostens staff members will be among experts who will share their knowledge on topics ranging from yearbook and newspaper basics to social and digital media strategies.
"It is an honor to support this year's JEA/NSPA convention in Minneapolis and the educational opportunity it will provide to students and teachers with a passion for journalism," said Gary Lundgren, Sr. Marketing Programs Manager, Jostens. "Yearbooks and school newspapers are unique in that they are created by students for students and connect all members of the school community."
The Journalism Education Association and Minneapolis-based National Scholastic Press Association provide education opportunities and resources for journalism students and educators. With the theme, "It Starts Here," this is the first JEA/NSPA convention to be held in Minneapolis.
Jostens is passionate about supporting high school journalists develop skills in journalism, photography, writing and design, leadership and business. Jostens' 1, 2, 3 Yearbook Journalism Curriculum helps yearbook advisers guide student staffs in creating their annual yearbook, while at the same time teaching 30 skills that prepare students for life outside of school. The importance of yearbooks and yearbook education drives Jostens to continually invest in new technologies and personalization options that provide new ways for students to express themselves and schools to share their stories.
JEA/NSPA convention attendees will also be among the first to see a demonstration of Jostens' new ReplayIt™ school media sharing service. Jostens' ReplayIt allows users to tag and share personal photos with classmates and makes them available through a secure, password protected and moderated site customized for each school. ReplayIt also serves as a valuable online multimedia tool to enhance classwork and document school activities. ReplayIt puts the camera in everyone's hands and helps the yearbook staff create a yearbook that tells a comprehensive story that represents everyone.
About Jostens
Minneapolis-based Jostens is a provider of products, programs and services that help people tell their stories, celebrate important traditions and recognize achievements. The company's products include school yearbooks and other memory book products, scholastic products such as class rings and graduation products, and products for athletic champions and their fans. Jostens is a subsidiary of Visant Corporation, a marketing and publishing services enterprise servicing the school affinity, direct marketing, fragrance and cosmetics sampling and educational and trade publishing segments.
# # #