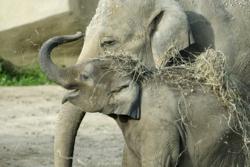 Understanding what happens to the ivory after an elephant is poached is just as important to controlling this epidemic as is protection of elephants in the wild
Silver Spring, MD (PRWEB) November 17, 2011
New research funded by the Columbus Zoo and Aquarium, and the conservation charities Elephant Family Foundation and Aspinall Foundation, reveals significant growth in the sale of illegal ivory in China. The Association of Zoos and Aquariums explores this story on its Explore blog.
The Elephant Trade Monitoring System (ETIS), which tracks global ivory and elephant product confiscations for CITES parties, shows a trend in the illegal trade of ivory that has been growing since 1998 as a direct result of emerging demand in China. The increase in demand has led to the poaching of thousands of elephants each year –with Asian elephants being particularly threatened as their population in the wild is down to an estimated 40,000 spread across a fragmented and shrinking habitat.
To combat these issues and more, AZA-accredited zoos participate in more than 85 elephant conservation and research projects, which include field-based training of park guards and land managers, habitat restoration, activities focused on reducing human-elephant conflict, ecotourism, and community-based initiatives. AZA institutions caring for elephants have provided millions in support of elephant conservation projects around the world.
The Explore blog brings you exciting, informative, and inspiring wildlife conservation features, zoo and aquarium stories, and profiles. Visit http://wildexplorer.org to get your wild animal fix!
Founded in 1924, the Association of Zoos and Aquariums is a nonprofit organization dedicated to the advancement of zoos and aquariums in the areas of conservation, education, science, and recreation. Look for the AZA logo whenever you visit a zoo or aquarium as your assurance that you are supporting a facility dedicated to providing excellent care for animals, a great experience for you, and a better future for all living things. The AZA is a leader in global wildlife conservation, and your link to helping animals in their native habitats. To learn more visit http://www.aza.org.
###