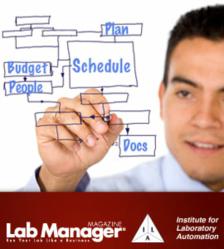 Everything you need to know if you're planning a project!
Midland, ON (PRWEB) November 18, 2011
Lab Automation University, a joint program of the Institute for Laboratory Automation & Lab Manager Magazine, will be hosting a two-part webinar series titled, "Project & Technology Management in Lab Automation".
These webinars will feature Joe Liscouski, Executive Director of the Institute for Laboratory Automation. Mr. Liscouski will be speaking from his 30 years of experience in the field of laboratory automation which includes design and development of automation systems. He will share his insight into developing a successful project plan, and the unique requirements that lab automation adds to the work.
The two one-hour segments – aimed at lab personnel, lab managers, support staff and IT professionals – will be held on December 6th and 13th 2011 at 12:30 PM EST and will both offer a Q & A session. This structure will allow attendees to email questions before each session so that they can be answered either during the presentation or after it.
Focus areas for these webinars will include:

How does project & technology management fit into the scheme of laboratory work?
Special considerations that lab work adds to project management
Why are these topics important to you?
What does project management cover?
o Process management – laboratory automation projects depend on an understanding and evaluation of the underlying processes that are being automated. Are you automating the right process?
o Documentation and planning – what documents and specifications are needed, how they relate to each other, scheduling, software development issues
o Outsourcing project work
o Validation – a natural consequence of a well-designed project / program
o Technology management – project / program management includes making allowances for changes in products and their underlying technologies. How do you choose between options in upgrading a system?
ex: With a faster robot, if you speed up that part of the work, will it just shift the bottleneck to somewhere else?
Attendees of these webinars will gain:
An understanding of how to organize a project and the critical documentation that is needed
How project management in lab automation differs from traditional approaches
What factors contribute to successful programs
What issues cause projects to fail and how to avoid them
A solid basis for expanding project management skills and leading successful projects
In modern laboratories, automation plays a central role in getting work done – much of what is done both in research and quality control depends on intelligent instruments, robotics, and informatics. The reliability and effectiveness of those systems is determined by the qualities of the project and programs that created them.
For more information on the course, please visit: http://www.institutelabauto.org/LAUOnLine/projmgt.html
To register, visit: http://www.institutelabauto.org/LAUOnLine/register.html
If you are planning a project, this material is vital to your work! Register and apply what you learn.
ABOUT THE PRESENTER:
Joe Liscouski, Executive Director of the Institute for Laboratory Automation, is an experienced laboratory automation professional with over 30 years of experience in the field – including the design and development of automation systems, LIMS, robotics, and data interchange standards. He has held symposia on validation and presented technical material and short courses on laboratory automation and computing in the US, Europe, and Japan.
ABOUT THE INSTITUTE OF LAB AUTOMATION:
The Institute for Laboratory Automation is a 501(c)3 non-profit organization focused on education and research into laboratory automation. Based in Groton, Massachusetts, the Institute focuses on supporting the laboratory automation community through education, conferences and standards. For more information, contact Joe Liscouski at: ILAinfo@InstituteLabAuto.org
ABOUT LAB MANAGER MAGAZINE:
Lab Manager Magazine analyzes the strong link between business strategy, technology innovation and implementation. It is focused on the lab professional in a leadership role who is responsible for setting the lab's direction and identifying, recommending and purchasing technology.
"Laboratory Automation University" and "Lab Automation University" are registered service marks used by the Institute for Laboratory Automation and Lab Manager Magazine.
END
###