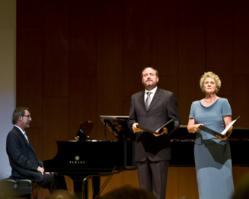 Whatley notes, "There is an ease about playing it that is extremely rare. It's like driving a finely-tuned sports car...the CFX offers the perfect balance - it enables me to control what I do and yet have clarity in the sound."
Kingwood, Texas (PRWEB) November 17, 2011
As Lone Star College-Kingwood completed construction of a state-of-the-art, 23,000 square-foot Music Instructional Building, it became clear that this exceptional facility warranted a new piano on par with the building's exquisite new recital hall. Lone Star's Todd Miller, DMA, Chair, Visual and Performing Arts, and Jay Whatley, Associate Professor of Music, were tasked with selecting a concert grand that would exceed expectations.
After traveling the country to review and evaluate the full complement of concert grand offerings on the market, the choice became clear: Miller and Whatley selected the Yamaha CFX concert grand piano, initially introduced to them by long-time Yamaha retailer Sherman Clay of Houston.
"I place the CFX in a different category," states Miller. Simply put, the purchase "shows that we are serious about our music program," according to Whatley. "It's a pretty amazing instrument."
Introduced in January 2010 in the United States, the nine-foot CFX is Yamaha's flagship concert grand model. Incorporating the sum total of Yamaha's piano manufacturing expertise and technology, the new model replaces the acclaimed CFIIIS concert grand piano. In addition to drawing on its 108-year heritage of manufacturing the world's finest pianos, the instrument represents 19 years of research and development conducted by Yamaha craftsmen, designers and engineers to create this extraordinary handcrafted instrument. The process culminated with a series of top-secret, in-depth evaluation sessions conducted in New York, Paris and Tokyo with top artists and Yamaha artist services over the last few years.
The CFX has begun to make its mark on concert stages around the world. Several distinguished pianists have won prestigious competitions playing the CFX, including the Choongang Competition (Korea), the Paderewski Competition (Poland), the Frederic Chopin International Piano Competition (Warsaw), the National Chopin Piano Competition (Miami) and the Hamamatsu International Piano Competition (Japan).
Whatley notes, "There is an ease about playing it that is extremely rare. It's like driving a finely-tuned sports car. You barely touch the pedal and the steering wheel and it responds. The CFX offers the perfect balance - it enables me to control what I do and yet have clarity in the sound."
Whatley, who coordinates the Applied Keyboard, Class Piano & Theory Programs, notes that the CFX empowers pianists to give voice to the finest, most subtle tones and details. "I played Debussy super softly and I could hear everything I was doing," he said. "It's almost as if I think about it and the piano does it. It's almost like it's tied to my mind."
The new, 120-seat recital hall will offer students and the community a performance space complete with an exemplary acoustic environment for recitals, small ensemble performances, meetings and other events. Beyond the recital hall, state-of-the-art rehearsal classroom, practice rooms and a Clavinova piano lab, the 23,000 square foot facility is also the new home to several music groups such as the Kingwood Chorale and Chamber Orchestra, the Kingwood Big Band, the Kingwood Community Band and the Kingwood Pops Orchestra, as well as numerous student ensembles.
"Yamaha didn't just seek to make a sale, they wanted the instrument in a quality environment and they view it as a partnership, wanting to ensure that we would also be the right fit for the instrument," continued Miller. "Yamaha is more flexible and more collaborative than other manufacturers we've dealt with."
Whatley concurs. "When we met with the Yamaha folks in New York it was very comfortable. It felt relaxed and non-pretentious. That's Yamaha's Corporate Culture. They were as interested in us as we were of them."
Beyond quality instruments, the college has been impressed with the high quality of service and support, which has spanned the entire sales cycle and life of the instruments. "Our sales contact, Chris Hepp, was completely focused on our needs and how they could best serve us," added Whatley.
Given the school's close proximity to the airport, the CFX will serve as a de facto display for schools in the area and it will also be made available for area artists or academics that wish to play it.
For Lone Star-Kingwood's part, they appreciated focusing on a relationship with a single vendor, according to Whatley. "The CFX is the crown jewel" of an already sweet deal that included "fabulous" band & orchestral instruments, as well as high quality, durable, P22 practice pianos "that last and hold their tune forever."
According to Yamaha Institutional Sales Manager David Pocock, The Lone Star –Kingwood Yamaha relationship exemplifies our customer-centric approach to institutions, which places the school's needs first. "We have found a wonderful partnership with Lone Star College," notes Pocock. "Yamaha is the only musical instrument manufacturer that can address an institution's full range of musical needs and disciplines. We're likewise thrilled that Lone Star will serve as a regional hub enabling music aficionados not only to hear this instrument, but to play it."
According to Miller, "Houston is a city with so much fantastic music and we find it tremendously gratifying to have this instrument. The CFX has so much community support and it inspires students to bring their top game. It speaks highly of the whole institution. In the end, music wins."
About Lone Star College
Known for its innovation and its visionary thinking, Lone Star College System is the largest institution of higher education in the Houston area and the fastest growing community college system in Texas. The institution offers associate degrees and certification in many areas of study. Through its progressive partnerships with four-year universities, LSCS can also offer seamless opportunities to obtain bachelor's and master's degrees at one of its two University Centers.
For more information on the Yamaha CFX and Yamaha's Institutional Relations Program, write Yamaha Corporation of America, Keyboard Division, P.O. Box 6600, Buena Park, CA 90622; telephone (714) 522-9011; e-mail infostation(at)yamaha(dot)com; visit http://www.yamaha.com/keyboards.
About Yamaha
Yamaha Corporation of America is the largest subsidiary of Yamaha Corporation, Japan and offers a full line of musical instruments and sound reinforcement products to the U.S. market. Products include: acoustic and digital pianos, portable keyboards, guitars, acoustic and electronic drums, band and orchestral instruments, marching percussion products, synthesizers, professional digital and analog audio products, and innovative technology products targeted to the hobbyist, education, worship, professional music, and installation markets.
###