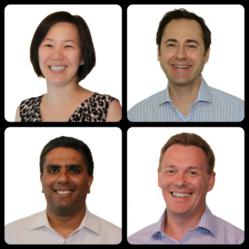 SINGAPORE (PRWEB) November 16, 2011
Today, voice micro-blogging leader Bubble Motion is announcing a number of high-profile executive hires to support its rapid growth throughout Asia. In conjunction with the $10M growth round of capital the company raised earlier this year, the company has used the additional investment to upscale its executive management team in Asia – attracting talent from all over the globe. Joining the team are Jean Huang Lundgren as COO, Brett Bouchard as CMO, Prakash Durgani as VP Engineering, and Paul Palmer as VP Worldwide Sales. The company becomes one of the few social media startups in Asia with a broad base of global technology management depth of Silicon Valley veterans.
Prior to joining Bubble Motion, Jean Huang Lundgren managed consumer product strategy in Asia for Vanguard Strategies, a boutique marketing consultancy founded by several former senior McKinsey partners. Before that, Ms. Lundgren led Motorola's content and value added service strategy across the Asia Pacific region. While also a long-time Silicon Valley veteran, Ms. Lundgren has spent the last decade living in China, Japan, Taiwan, and Singapore. Their new CMO, Brett Bouchard also brings deep mobile app product management and international marketing experience to the team. As Managing Director Europe for Ancestry.com he started and built out the company's European operations as well as led new product launches globally. More recently, he was leading marketing at SkyGrid, a formidable Valley competitor to mobile app company Flipboard.
Meanwhile, Prakash Durgani, Bubble Motion's new VP Engineering, adds deep VoIP and voice architectural knowledge to the team, joining CTO T.S. Ramakrishnan (former VP Engineering at Facebook, AdMob, and Yahoo!) in continuing to scale the company's flagship Bubbly service. Between the two of these technical visionaries, they hold dozens of patents in the VoIP and voice technology space. Bubble Motion's new VP Sales, Paul Palmer, brings extensive experience Asia mobile operator sales experience, starting and leading efforts in the Asia Pacific region for three well known US startups over the past decade, including for Adaptive Mobile, Ubiquisys, and mFormation.
These executive-level team members will be expanding Bubble Motion's platform and country presence with a number of product and region launches ahead. A number of fresh mobile operator partnerships will reinforce Bubbly's expansion into more Asian countries. In parallel, the team will be bringing Bubbly to iOS and Android, adding text, photo, and video to the service.
"It was critical that we built out a Silicon Valley-minded management team here in Asia as we start to expand globally… we wanted the same 24/7 work ethic and scrappiness of any other top startup in the Valley. We are in unchartered territory here in Asia and believe success here will be driven by talent and the ability to scale at a rapid pace," said Bubble Motion CEO, Thomas Clayton.
Bubbly, best described as a "voice-based Twitter", is a social messaging service where people share voice updates with friends, family, fans and followers. Used by hundreds of celebrities as an authentic way to keep their fans updated, Bubbly user growth has soared in India, Indonesia, Philippines, and Japan, now with over 12 million users total. Half of all active users pay a monthly subscription to use the social service.
About Bubble Motion
Bubble Motion is pioneering social communication for mobile phones. Bubble Motion's Bubbly is a social messaging service where people share SMS and voice updates with friends, family, fans and followers. Bubbly is like 'Twitter with a voice' and brings social networking to mobile phones.
To learn more about Bubbly, visit http://www.bubblemotion.com/products-bubbly.html
###