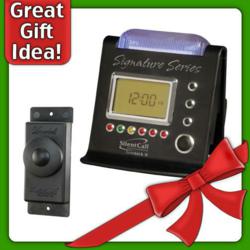 Give the Gift of Safety
(PRWEB) November 17, 2011
Silent Call Communications knows that there are many people who have disabilities and are in need of assistive alerting devices. The new Signature Series Sidekick II receiver is not only a clock and alarm clock, but works in conjunction with Silent Call transmitters, such as the doorbell, weather alert system, smoke detector, sound monitor and someone's telephone to alert them of where attention is needed. The Signature Series Sidekick II can also be connected with a Bed Shaker to wake someone when their alarm goes off. Also, the Bed Shaker is set with predetermined output vibrations for each transmitter type and can be used to alert someone as well. The Signature Series Sidekick II is the only of its kind with built in Supervision, that when connected to Signature Series Smoke Detectors in the home, will alert a person if the battery is low or if something is wrong and the receiver did not receive a signal.
With the many functions of the Signature Series Sidekick II along with a Bed Shaker, a person can feel more confident and independent. For example, there will be no more need for relying on others to alert them to a phone call, someone at the door or severe weather. A person can be more self reliant in knowing that they can become aware on their own. Silent Call Communications provides a variety of life enhancing systems to be beneficial and helpful to others. The products are designed to provide a convenient way for people to be alert without missing out on life.
Since 1985, the Silent Call Communications Corporation has taken a simple philosophy of personal communications by means of electronic alerting devices and has developed an exciting product line. These products have revolutionized the means by which people who are disabled may lead more convenient, safe lives.
For more information about Silent Call Communications and products, please visit http://www.silentcall.com or call (800) 572-5227 (Voice or TTY).
Ubetcha Marketing, 9007 Crowne Springs Circle, Ste. 106, Louisville, KY 40241
Contact: Lisa DeLeuil
Direct Line: 502-794-8464
E-mail: lisa(at)silentcall(dot)com
###