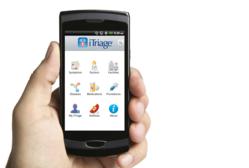 We're proud to offer the latest advanced technology to the residents in our communities, all of which reinforce our commitment to improving healthcare access and information
Opelousas, LA and Denver, CO (PRWEB) November 17, 2011
The explosive growth in mobile phone subscriptions has led Opelousas General Health System to expand its presence in the mobile community by partnering with iTriage® - a free smartphone application that lets users quickly and easily search medical symptoms and find the closest healthcare providers.
To access iTriage, consumers can download the free application from the app stores for their iPhone® or Android™ mobile devices or access it through any Internet-enabled device at http://www.iTriageHealth.com.
Schumacher Group, the nation's third largest emergency and hospital medicine management firm, has brought iTriage to Opelousas General Health System. This technology provides the residents and visitors in St. Landry Parish with the resources to help make informed medical decisions about the most appropriate healthcare facility for their condition. Users can also use the interactive iTriage mobile technology to:

Learn about possible causes and treatment options
Obtain medication information for treatment of a specific condition
Find specific Opelousas General Health System information like services, specialties, hours of operation and turn-by-turn directions
"We're proud to offer the latest advanced technology to the residents in our communities, all of which reinforce our commitment to improving healthcare access and information," said Gary Keller, President and CEO, Opelousas General Health System.
"As a healthcare app that aggregates symptom, disease, procedure and provider information, iTriage is helping to empower consumers with their healthcare needs," said Peter Hudson, M.D. and co-founder of iTriage. "We live in a new world that requires patients to be more informed and responsible for their health and iTriage allows them to play a larger role in their healthcare."
About Opelousas General Health System
Since 1957, Opelousas General Health System has been dedicated to the provision of quality health care through its strong commitment and high standards. Serving as the region's referral medical center, OGHS is the area's most comprehensive community health care facility offering a wide range of medical specialties and state-of-the-art-technology. OGHS is a 245-bed full service medical center as complete and inclusive as any referral hospital in the state. The Main Campus, South Campus, and Sunset Campus facilities are located in St. Landry Parish which boasts a population of over 92,000. For more information about OGHS, please visit http://www.opelousasgeneral.com.
About iTriage, LLC
Headquartered in Denver, CO and co-founded by two emergency medicine physicians, iTriage offers a unique Symptom-to-Provider™ pathway that empowers patients to make better healthcare decisions. iTriage helps people answer the two most common medical questions: "What condition could I have?" and "Where should I go for treatment?" Millions of consumers around the globe have downloaded iTriage on their mobile devices and thousands of healthcare providers use iTriage to reach and communicate critical facility and service information to patients. For more information, please visit http://about.iTriageHealth.com.
###