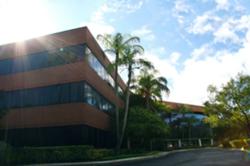 Clearwater, FL (PRWEB) November 21, 2011
In one of the largest corporate moves this year in the Tampa Bay region, AmeriLife - the nation's largest senior-focused life and health insurance marketing organization - leased the expansive three-story complex formerly known as Prestige Place II, on U.S. Highway North, with a move of its 350 employees planned for March 2012.
"This is the space we've needed to expand our services as well as our employee base," said AmeriLife CEO and President Timothy O. North. "Despite the economy, AmeriLife has thrived in recent years, as some similar companies have struggled or even closed their doors. AmeriLife is growing, and we're spreading our wings."
Alan Feldshue and Melanie Jackson of Colliers International Tampa Bay represented AmeriLife, the holding company for a nation-wide group of affiliated life and health insurance marketing companies focusing on the senior market. Colliers International negotiated an 11-year lease. Terms and specifics were not made public.
Hans Kaunath and Judy Healey of Ciminelli Real Estate Services represented the landlord, CW Capital Asset Management.
AmeriLife - moving from its long-time location at the landmark AmeriLife Towers at the intersection of U.S. 19 and Countryside Boulevard - was attracted to the 2650 McCormick Drive complex (to be called AmeriLife Place) by its central Pinellas location, the large parking facilities and the ability to customize the building to AmeriLife's unique needs.
"This new complex provides a major upgrade in corporate space for the company," said Colliers' Feldshue. "After considering more than 20 locations around the Tampa Bay area, this location offered AmeriLife a unique opportunity" for expansion and aesthetic identity.
The interior of the building, originally built in 1987, is being renovated, re-imagined and remodeled for AmeriLife's use. In its new location, the company will get more parking, custom landscaping and a facility that is "green" (energy efficient).
"Frankly, we're long overdue for corporate expansion," said Mr. North, AmeriLife's CEO. "Our headquarters – as are our employees, independent agents and affiliates across the nation – is a reflection of our leadership position in the senior-focused insurance industry. This move will facilitate company expansion and accelerate our ability to serve our agents and clients alike."
About AmeriLife:
For 40 years, AmeriLife – long based in Clearwater – has provided excellence and access as the nation's largest, privately-owned, senior-focused life and health insurance marketing organization. AmeriLife is dedicated to the insurance and financial needs of America's increasing senior population through insurance-related products such as Health and Medicare Supplement Plans, Licensed Third-Party Administration, 15 National Marketing Companies, Career Agencies, Annuities, Financial Services, Long-Term Care and a new Property and Casualty Insurance Agency. For additional information about AmeriLife or its impending move to AmeriLife Place, please contact Corporate Communications Director Wayne Shelor at (727) 726-0726.
About Colliers International:
Colliers International is the third-largest commercial real estate services company in the world with 15,000 professionals operating out of more than 512 offices in 61 countries. A subsidiary of FirstService Corporation (NASDAQ: FSRV; TSX: FSV and FSV.PR.U), it focuses on accelerating success for its clients by seamlessly providing a full range of services to real estate users, owners and investors worldwide, including global corporate solutions, brokerage, property and asset management, hotel investment sales and consulting, valuation, consulting and appraisal services, mortgage banking and research. Commercial Property Executive and Multi-Housing News magazines ranked Colliers International as the top U.S. real estate company and the latest annual survey by the Lipsey Company ranked Colliers International as the second most recognized commercial real estate brand in the world.
###