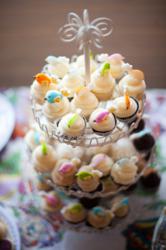 I knew that SweetHaus would be a bright spot for many people, a little haven where they can indulge themselves for a few dollars.
Charlottesville, VA (PRWEB) November 17, 2011
SweetHaus Cupcake and Candy Shop in downtown Charlottesville opened just weeks after the unexpected Virginia earthquake amidst a media flurry surrounding the rumored "economic collapse." While many entrepreneurs might be frightened by all that negativity, owner Tara Koenig felt calm amongst the chaos and saw her tiny 500 square foot mom 'n' pop sweets shop as a ray of light in the darkness.
"My family, like many others, have felt the pressure to curb spending and cut down on our dining out expenditures. I knew that SweetHaus would be a bright spot for many people, a little haven where they can indulge themselves for a few dollars. For under $5, our customers can come in and try 5 different flavors of cupcakes in the miniature size. In fact, the mini cupcakes were an unexpected smash success, people seem to love the cute factor," said Koenig.
In addition to the small-batch, homemade baked offerings, SweetHaus peddles nostalgic candy such as wax bottles, candy necklaces and gourmet jelly beans. Specialty gifts related to sweets are on offer such as retro aprons in graphic prints, ceramic mixing bowls and platters, colorful cake stands and cheeky favors such as bubble gum cigar birth announcements.
"I wanted to create a space where you could duck in on your way to a birthday party or baby shower and grab cupcakes, a gift and wrapping paper. I've tried to pull together a collection of things that are unique and affordably priced."
There are tables for adults, and kid-sized ones as well, so that everyone feels welcome. SweetHaus has already been home to several events, from a private cupcake and champagne tasting to the packed launch party of local business RedBidGifts.com. Koenig and her neighboring business, Cat Thrasher Photography, frequently collaborate on events. On October 31, the two businesses offered a costume contest and complimentary professional portrait to local children in their Halloween costumes. SweetHaus and Cat Thrasher Photography will join up again on Sunday, December 4 offering inexpensive photos with Santa and holiday cupcake decorating.
"There is such a sense of joy from the kids and adults that come in for cupcakes and candy. For the brief time that you are in the shop, you can't help but be transported back to your childhood. After years of dreaming of opening my own cupcake shop, I am so excited to have a space for the community to treat themselves to a little bit of luxury. UVA students, grandparents, toddlers and even other local business owners come in weekly to find out the latest flavors. I feel truly blessed to have the opportunity to shine a little happiness on someone else's day."
About Tara Koenig:
Tara Flanagan Koenig graduated from University of Virginia in Charlottesville with a degree in Economics in 1999. In 2008, after years working for top resterateur Keith McNally (Balthazar, Pastis) in New York City, she settled back into Charlottesville with her husband, Billy Koenig, and nearly 2 yr old daughter Vivienne.
###