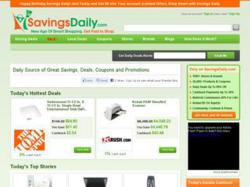 (PRWEB) November 17, 2011
SavingsDaily.com is the best source for discounts on clothing through popular merchants such as Zappos.com, BagsBuy.com and Gap.com. Clothing options are available for men, women, children and babies. Everything from wedding dresses to maternity clothes to business suits can be found through this daily deal, discount and coupon website.
SavingsDaily.com works with popular merchants to help bring the best deals to consumers. The site combines available offers on the internet as well as exclusive online deals to help internet buyers save money on a new wardrobe. Starting off with swimwear, there are discounts up to 66% off on items from Chick Downtown, Shoe Buy, Cooltan and Junonia. Along with these great saving deals members are able to earn cash back up to 15% on qualified purchases. This cash back bonus truly allows get paid while shopping.
Men can use the discounts and daily deals at SavingsDaily.com to save on underwear, outerwear, swimwear and activewear. Some of the affiliate merchants for men clothing include Banana Republic, Raffaello Ties and Gap. Popular department stores also feature items with this website such as Boscov's and Beall's. Stay warm in the cool weather season with a new coat from Jil Sander or Evo Gear at 90% off. There are hundreds of clothing items to choose from at SavingsDaily.com for men, women and children.
The cost of a wedding can be hefty, but the bride can always save on her dress with coupons from SavingsDaily.com. In addition to the dress, there are coupons available for photographers, caterers, spa treatments and other wedding essentials through the daily deals section of the website. Deals are available in a variety of cities around the country as well as on the internet. It is free to create an account with SavingsDaily.com. "Our members have access to all of the daily deals, discounts and online coupons as well as the website blog and forum where they can share deals with other shoppers" site founder said and adds "the cash back incentive is unique in that it is not offered by other sites with similar deals". All of the coupons and discounts are conveniently located in one place for quick and easy shopping.
For more information on SavingsDaily.com visit the website or contact them via email by phone at (877) 782-4815.
###