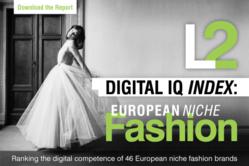 "We believe Digital IQ is a primary driver of shareholder value," comments Professor Scott Galloway.
New York, NY (PRWEB) November 17, 2011
New research demonstrates that European niche fashion brands' digital competence lags their larger, more established global fashion peers. The L2 Digital IQ Index®, developed by NYU Stern Professor Scott Galloway and a team of experts from L2, measures the digital aptitude of 46 European niche fashion brands with annual turnover between €25 million and €250 million (estimate). Brands were measured on 350 data points across four dimensions: Site, Digital Marketing, Social Media, and Mobile and assigned a Digital IQ and a corresponding class of Genius, Gifted, Average, Challenged, or Feeble.
No brand in the inaugural European Niche Fashion Index nabbed Genius status – a Digital IQ Index® first, and a staggering 70 percent of brands were characterized as Challenged or Feeble. One third of brands are still not selling online, and less than half are participating in paid search. Adoption and community size on popular social media platforms – Facebook, YouTube and Twitter – lags global fashion players.
"Digital could be the key differentiator for brands that become iconic, and those that become irrelevant," says Galloway. "Establishing direct relationships with end consumers through e-commerce and social media represents a significant opportunity for European niche fashion brands to grow."
To download the complete rankings and key findings, go to: http://bit.ly/L2EuropeanFashionIQ
Top Ranked Brands in the Study:
1. Agent Provocateur
2. Ted Baker
3. Stella McCartney
4. Superdry
5. Moncler
6. Moschino
7. Lanvin
8. Emilio Pucci
9. Jean Paul Gaultier
10. La Perla
Key findings include:

One third of the brands in the Index do not support e-commerce. Brands with e-commerce averaged a Digital IQ scored on average 35 points higher than those not selling online.
Brands headquartered in the U.K. register higher Digital IQs than those from other countries. Replicating the findings of the Digital IQ Index®: Fashion, Italy and France continue to lag behind their British peers by a considerable margin.
Mobile adoption lags. Only 33 percent of the brands provide any mobile experience; 18 percent have developed a mobile-optimized site and 17 percent have developed applications.
Adoption of digital platforms among European Fashion brands is limited compared with the 49 brands included in this year's Digital IQ Index®: Fashion. European niche fashion brands trail on every platform.
A bifurcation exists between Gifted brands and those that are Challenged or Feeble, suggesting a subset of European brands have made competent (yet still undifferentiated) forays on digital platforms, while many have largely ignored the digital phenomenon.
"We believe Digital IQ is a primary driver of shareholder value," commented Galloway.
About L2
L2 is a think tank for digital innovation. Founded by NYU Stern professor of marketing Scott Galloway, L2 helps prestige brands navigate the digital marketing landscape through events, research and advisory services. The L2 Digital IQ Index® is the largest and most robust study of its kind. Rankings are published annually across industries including Luxury, Specialty Retail, Beauty, Travel, Auto, and Media.
For more information, visit: http://www.l2thinktank.com
###