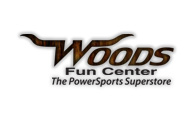 Austin, Texas (PRWEB) November 17, 2011
Woods Fun Center, Central Texas's Motorcycle and PowerSport Superstore,will be holding the final Bike Night of 2011. Twice a month from March through September, then one a month through November, from 7-10 pm, Woods Fun Center of Austin hosts a carnival of entertainment for iron horse enthusiasts, motorcycle clubs and their families. Woods Fun Center's Austin Bike Nights are famous for drawing bikers, clubs and families from all corners of Texas.
Woods Fun Center Bike Nights feature a full slate of contests and games, from wing-eating contests to mechanical bull-riding championships. Woods will even present a trophy to the most-represented motorcycle club at the gathering, best custom cruisers and more. Participants can enjoy shopping Woods' wide selection of gear and accessories that will be specially discounted for Bike Nighters, including all-weather clothing, leather goods and accessories.
In addition to family contests and merchandise sales, Woods Bike Nights feature oil-change giveaways, unique food vendors and, of course, free live music. Woods is proud to partner with the Red Cross and Austin's own 100 Club at their events to help extend the philanthropic nature of the biker community and help these families to give back in a time of need for so many, making Woods Bike Nights a great way to give back while having a blast. They recently raised donations to benefit the victims of the wildfires in Bastrop, Texas.
Woods Fun Center, located just off of I-35, has been serving the greater Austin area for over 32 years. Woods carries everything from motorcycles, scooters and ATVs to light watercraft, sport boats and even generators, meeting the needs of PowerSport enthusiasts of every stripe. Woods Bike Nights are a Central Texas institution and are part of Woods extensive schedule of community events, fundraisers and rallies.
###