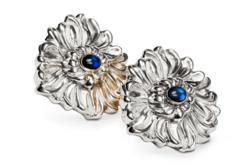 From Tiffany fame to famous trophies, Galmer Silversmiths now shifts from tabletop to jewel box.
Baltimore, MD (PRWEB) November 22, 2011
From Tiffany fame to famous trophies, Galmer Silversmiths based in Long Island City, NY, has been the source for a wide range of elaborate silverwork for three decades. Galmer tea sets, goblets, candlesticks and pitchers are collected by connoisseurs worldwide who cherish the Galmer hallmark and rare artistry. Now Galmer 's craft moves from tabletop to jewel box, with a 50-piece collection of wearable art for American Estate Jewelry, handcrafted in the U.S.A. using the rare repousse' technique.
Represented by American Estate Jewelry of Baltimore, a city once the hub for repousse' flatware created by the now defunct Kirk Stieff Company, the collection brings today's women the elegance of the American repousse' tradition , which was popular in the early 1900's. Repousse' means "pushed from the back" and involves the creation of special molds, specialized expertise and extensive engraving. The result is a highly sculptural, detailed piece with beautiful variations in shine.
American Estate's founder Carolyn O'Keefe says, "Americans are spending again, but more consumers are taking a collector's approach. The artist's lineage, the quality of metals and workmanship and true, enduring beauty …not trendiness…are what counts in fine jewelry these days."
The line debuted to the trade in July 2011 at the Luxury Prive' show at New York's Pierre Hotel aimed at luxury jewelry retailers. American Estate was the only silver line among elite gold and gem manufacturers. The addition of sterling in their merchandising mix offers top jewelers something new for their customers and a more affordable price point which is a factor for even the most affluent. The line was chosen for the show because, unlike the ubiquitous lines of trendy beads and bangles in standard stores, the artistry and cachet of Galmer allows high-end stores to offer sterling without diminishing their reputations.
Items include highly detailed sculptured sterling cuff bracelets, rings, earrings and necklaces in natural floral and organic motifs. Pieces are often finished with 24K gold linings and exterior touches. Prices range from $325 to $1,750.
American Estate Jewelry is available through Tiny Jewel Box, Washington DC, Works Gallery, New York City, and Descenza Diamonds in Boston as well as nationwide and internationally through its web store http://www.americanestatejewelry.com.
# # #