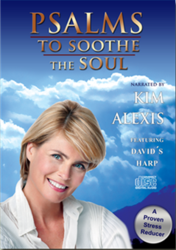 This new collection is beautifully narrated by supermodel and leading evangelical force Kim Alexis, and features the original music of recording artist David Y.
Encino, CA (PRWEB) November 29, 2011
Worldwide Success Media, Inc., a worldwide publisher of inspirational and spiritual media, announces the immediate availability of Psalms to Soothe the Soul: Starring Kim Alexis. The two part DVD is an audio visual collection of powerful, personal prayers and Christian songs from The Book of Psalms.
Dan Kimpel, CEO of Dan Kimpel Music Media, says of the new collection, "As the author of six books and thousands of magazine articles, I am well versed in the power of words. But nothing prepared me for the overwhelming experience of hearing the Bible in the new collection. David Y. is a visionary whose imagination and inspiration are limitless."
When asked about the project, Kim Alexis said, "This was one of the most satisfying and enjoyable projects I have ever done. The words took on powerful meaning and a rhythm of their own. It was magical."
About Psalms and Songs:
The collection is set to original music, healing hymns, classical masterpieces and inspirational imagery, narrated by renowned spiritual leaders and public figures.
Other Christian songs collections are also available, including: 1) Psalms-on-the-Go, a 2-Disc Set featuring Psalms for travelers and people on-the-go. 2) A complete 10-DVD Set of all 150 Psalms available in over 21 different languages and versions. 3) The complete 10-CD Set of Audio Books 4) The 21-Disc Ultimate Collection, including complete DVDs, Audio Books, and a bonus musical CD/CD-ROM with 80 minutes of soothing and uplifting music plus bonus material.
In conjunction with the release of these collections, Worldwide Success Media, Inc. is offering the opportunity for churches and ministries to customize their own Special Edition versions, using the narration of their very own Pastors to be used as a customized gift for their congregants or for fundraising efforts.
About David Y. - Recording Artist and CEO of Worldwide Success Media, Inc.:
David is the artist and creative visionary behind the newly released CDs. David Y. (a self-taught musician) has produced over 150 unique and popular audio-visual titles (with over 1,000,000 CDs sold) that make good on his mission to offer quick and creative references to life's challenges and opportunities. David Y. has traveled around the world to produce the two disc set. His mission was to record narrations from the world's leading spiritual leaders, therapists, and public figures, including an authentic biblical Hebrew narration recorded in Jerusalem by "the Voice of the Bible," Mr. Moshe Timor.
"Psalms and Songs" is a creative labor of love and the culmination of over 30 years of passionate production.
About Kim Alexis:
Kim Alexis is widely known as a supermodel at the top of her field in every aspect of the fashion and entertainment industry—from the runway to broadcast journalism.
Her inner beauty is as undisputed as her outward beauty. A devout Christian, Kim has tirelessly parlayed her good looks and bright mind to champion many spiritual causes that make the Bible relatable to everyday life, from parenting to fitness to issues dealing with women's health. As a part of her personal and professional mission, she addresses these issues whenever possible.
Kim naturally loves to promote products that she believes in. Since she has such vast interests, she can promote products from beauty to the medical industry. Over the years, Kim has become prominent in commercials, speaking engagements and satellite media tours. "Psalms to Soothe the Soul" is one more way that Kim is shining the light on issues of physical and spiritual health. Kim's effortless and relatable reading of the Psalms- without pretensions- is the perfect way to absorb this millennial biblical text for both the devout and the uninitiated bible reader alike.
For more information, press only:
David Yakobian, 818-986-3389, yakobian(at)sbcglobal(dot)net
For more information on Psalms and Songs:
http://www.psalmsandsongs.com
###