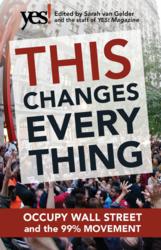 "This book captures an extraordinary moment, when people who have been sitting, frustrated, on the sidelines finally have a voice," explains YES! Magazine's Sarah van Gelder, editor of This Changes Everything.
San Francisco, CA (PRWEB) November 17, 2011
"This Changes Everything" is a compilation of essays and articles written by both Occupiers on the inside of the movement and in the trenches, and by luminaries, and thought leaders with perspective about the movement, like Naomi Klein, Ralph Nader, and David Korten. The book blends the experiences of the Occupiers with the voices of the "New Economy Thinkers" to create an emerging body of thought that will help answer the questions how can things REALLY change and what can people do to help create that change?
The Book:
This Changes Everything: Occupy Wall Street and the 99% Movement
By Sarah van Gelder and the Staff of YES! Magazine
(Berrett-Koehler Publishers, 2011; 96 pages)
In Part One, people at the heart of the movement along with close observers describe the early, heady days of Occupy Wall Street and reflect on the challenges of implementing inclusive decision-making and authentic diversity, and dealing with violence.
Part Two explores ways to address gross inequality, the corruption of our money and banking systems, an unjust tax system, and the desperate need for jobs in a climate-constrained world.
Part Three is a selection of powerful ways the movement can move forward, with articles on the legal fiction of corporate personhood, accomplishments of past people's movements, lessons from the uprisings of the Arab Spring and Europe, and ways anyone can support the Occupy movement.
About Sarah van Gelder:
As co-founder and executive editor of YES! Magazine, Sarah leads the framing and development of each issue of YES! and writes a column introducing each issue. Sarah blogs regularly for YES! Magazine and Huffington Post, writes articles and does interviews for YES! Magazine, and speaks on leading-edge innovations that show that another world is not only possible, it is being created. Topics she has covered include the new economy, solutions to climate change, alternatives to prisons, food, water, nuclear disarmament and active peacemaking, education for a better world, happiness, and many more.
About YES! Magazine: Since their founding in 1996, YES! Magazine and YesMagazine.org have been showing how powerful ideas fused with practical actions can drive profound change towards a more just, sustainable, and compassionate world. Project Censored calls YES! "the standard for solutions journalism." Democracy Now's Amy Goodman calls YES! a "vital voice of independent journalism." The Utne's Independent Media Awards have repeatedly recognized YES! Magazine; and Treehugger.com named YES! the best green business and politics website of 2011.
About Berrett-Koehler Publishers: Berrett-Koehler Publishers was founded in 1992 by Steve Piersanti in San Francisco, CA. The mission-based publisher believes in "Creating a World That Works for All" and publishes an average of 40 titles per year that reflect that mission in the business, current affairs, and lifestyle categories. Berrett-Koehler Publishers is a Certified B Corporation. http://www.bkconnection.com
10 WAYS THE OCCUPY MOVEMENT CHANGES EVERYTHING
By
SARAH VAN GELDER, DAVID KORTEN, AND STEVE PIERSANTI
Many question whether this movement can really make a difference. The truth is that it is already
changing everything. Here's how.
1. It names the source of the crisis. The problems of the 99% are caused by Wall Street greed, perverse financial incentives, and a corporate take-over of the political system.
2. It provides a vision of the world we want. We can create a world that works for everyone, not just the wealthiest 1%.
3. It sets a new standard for public debate. Those advocating policies and proposals must now demonstrate that their ideas will benefit the 99%. Serving only the 1% is no longer sufficient.
4. It presents a new narrative. The solution is no longer to starve government, but to free society and government from corporate dominance.
5. It creates a big tent. We, the 99%, are made up of people of all ages, races, occupations, and political beliefs, and we are learning to work together with respect.
6. It offers everyone a chance to create change. No one is in charge. Anyone can get involved and make things happen.
7. It is a movement, not a list of demands. The call for transformative structural change, not temporary fixes and single-issue reforms, is the movement's sustaining power.
8. It combines the local and the global. People are setting their own local agendas, tactics, and aims. But we also share solidarity, communication, and vision at the global level.
9. It offers an ethic and practice of deep democracy and community. Patient decision-making translates into wisdom and common commitment when every voice is heard. Occupy sites are communities where anyone can discuss grievances, hopes, and dreams in an atmosphere of mutual support.
10. We have reclaimed our power. Instead of looking to politicians and leaders to bring about change, we can see now that the power rests with us. Instead of being victims of the forces upending our lives, we are claiming our sovereign right to remake the world.
###