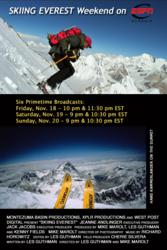 "It is hard to do anything at such altitudes," wrote Forbes adventure columnist Jim Clash, "where death lurks at every turn, let alone ski and survive to tell the tale."
New York, NY (PRWEB) November 17, 2011
An exhilarating documentary about the elite group of skiers who scale the world's highest mountains, and challenge their most dangerous slopes, "Skiing Everest" will premiere in primetime this Friday, Saturday and Sunday evenings on ESPN Classic. Produced by Aspen, Colorado-based Montezuma Basin Productions, in partnership with XPLR Productions and West Post Digital, the film will air six times in back-to-back broadcasts each night.
Directed by Les Guthman and Mike Marolt, and filmed by Marolt over ten years, "Skiing Everest" follows a group of close friends, led by Marolt, his twin brother, Steve, and their childhood friends, Jim Gile, and Olympic cross-country skier, John Calhoun, in what many people consider the toughest physical challenge on Earth – climbing and skiing in the "Death Zone" without using bottled oxygen, under weather conditions as perilous as the thin air, with hidden crevasses and 10,000-ft. sheer faces that drop off into Nepal and Tibet far below. At the top of the world, they lock into their skis and challenge the most spectacular ski slopes on the planet.
Writer and co-director Les Guthman, who produced three of the "20 Top Adventure Films of All Time" according to Men's Journal magazine, was drawn to the Marolts' story. "The reason I decided to make "Skiing Everest" with Mike was my deep respect for the skiers' approach to these expeditions, which are magnificent human adventures in the purest sense," says Guthman. "These guys remind us of what adventure really is, in an era when the word and concept have become cheap commodities."
Licensed by ESPN this summer, the film also tells the history of high-altitude skiing, dating back to the 1930s, and includes interviews with Hans Kammerlander, the first to ski from the summit of Everest; Laura Bakos, the first woman to ski from the summit of an 8,000-meter peak; and Chris Davenport, the two-time world extreme skiing champion and avid high-altitude ski mountaineer.
Davenport compares the heli-skiing "extreme" sport with skiing in the Death Zone: "When we're making a ski film in Alaska, where it's powder and it's very, very steep, you're not dealing with avalanches as much and you're not dealing with death exposure. So you can ski fast and you can take some risks. And if you make mistakes, chances are you're going to be fine. You're going to cartwheel down the mountain, but you're not going to die. Now, when we're skiing in the Himalaya, on something very steep, if you make a mistake and you fall, you're dead!"
Weekend Broadcast Schedule:
Friday, Nov. 18 - 10:00 pm and 11:30 pm ET
Saturday, Nov. 19 - 9:00 pm and 10:30 pm ET
Sunday, Nov. 20 - 9:00 pm and 10:30 pm ET
CREDITS:
MONTEZUMA BASIN PRODUCTIONS, XPLR PRODUCTIONS and WEST POST DIGITAL Present "SKIING EVEREST" JEANNE ANDLINGER Executive Producer JACK JACOBS Executive Producer Produced by MIKE MAROLT, LES GUTHMAN and KENNY FIELDS MIKE MAROLT Director of Photography Music by RICHARD HOROWITZ Edited by LES GUTHMAN Field Producer CHERIE SILVERA Written by LES GUTHMAN Directed by LES GUTHMAN and MIKE MAROLT
To view the trailer, visit http://www.SkiingEverest.net.
82 minutes. High Definition 16x9. Color.
© 2009 Montezuma Basin Productions, LLC
###