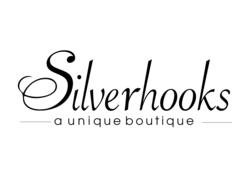 We have been expanding our product mix rapidly this past year and the revamped website better highlights our large product offering and growing list of designer brands. We couldn't be happier with the new site! - Melanie Howard, Founder
Las Vegas, NV (PRWEB) November 17, 2011
Silverhooks.com today announced the launch of its fresh, new retail website, which boasts thousands of exclusive and trendy designs in women's fashion accessories – including the enormous variety of stylish purse hooks and handbag accessories that they have been lauded for by their loyal, repeat customers.
Says Melanie Howard, Silverhooks' founder, of the revamped site: "We have grown from a purse hanger company to a leader in the unique women's accessory market. The amount of women shoppers looking online for fashionable accessories is rapidly expanding. Our strategy is to provide a huge selection of unique fashion forward products at affordable prices. Our new website clearly shows our commitment to becoming the leading destination for unique, fashionable and affordably-priced accessories."
The new site makes shopping at Silverhooks.com even more gratifying and efficient for online shoppers and bargain-hunters by featuring better search capabilities, higher-quality product images, easy to find discounted sales and wholesale tabs and a more sophisticated design layout that offers straightforward product categories. New and existing customers will be able to easily find just what they are looking for, effortlessly make their selections and check out smoothly and securely online.
"We have been expanding our product mix rapidly this past year and the revamped website better highlights our large product offering and growing list of designer brands. We couldn't be happier with the new site," Melanie enthusiastically explains.
Along with their newly designed site and expanded product selection of over 2000 items, Silverhooks is on track to double its 2010 sales volume for 2011 and will be moving into a 10,000 square foot warehouse in early 2012 to accommodate the growth.
As shoppers gear up for holiday gift-giving, the team at Silverhooks.com are readying for increased sales of their new designer brands, distinctive product selections, and expanded merchandise lines. An incentive for online buyers who want to cross more off their holiday shopping lists at one time, Silverhooks.com is offering FREE SHIPPING to one location for retail orders over $50.00.
Silverhooks.com carries travel and daily essentials – such as classy totes, luggage tags, manicure sets and cellular accessories – to unique, fun gift and personal items – like their popular crystal covered desk accessories and an impressive collection of wallets and designer handbags, along with attractive and functional hats, Pashmina scarves and exquisitely practical purse hangers.
For the fashion-forward woman who wants only the best, Silverhooks is proud to carry designer brands like Calvin Klein, Kenneth Cole, JPK Paris, High Sierra, Lodis, Buxton, Harvey's, Mundi, Rolfs Canterbury and Hello Kitty.
All of the improvements at the new Silverhooks.com are intended to make online shopping fun, easy and satisfying - while furthering Silverhooks.com as the first place women go when shopping for unique, quality fashion accessories.
About Silverhooks.com
SilverHooks is a unique online women's boutique specializing in stylish and functional fashion accessories based in Las Vegas, NV. Founded in 2007, Silverhooks is constantly searching for and developing innovative accessories that will keep you up with the latest trends! The Signature Silver Purse Hook is where it all began. We used it everywhere we went and attracted so much attention. Everyone wanted to know how they can keep their purses safe and clean too! So we created SilverHooks.com, a website that sells innovative and trendy purse accessories to help keep the modern woman safe, healthy and organized.
All product and company names herein may be trademarks of their respective owners.
Company Contact:
info[at]silverhooks[dot]com
(866) 926-3223
@Silverhooks on Twitter
Facebook.com/Silverhooks
###