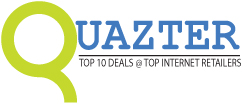 The concept is very much like shopping malls and Sunday sales papers combined into one
Philadelphia, PA (PRWEB) November 28, 2011
Philadelphia area based quazter.com was launched just few days before Black Friday and has already provided an intelligent alternative for thousands of visitors looking for deals on the internet. The site was created in response to daily deal vendors propping up all over the internet that are leaving too many merchants unhappy and creating buyer's remorse for shoppers. Quazter.com lists top deals from top internet merchants for its visitors but does not collect any personal information on potential shoppers. Quazter.com's model allows shoppers to shop in peace without compromising their personal information. The key to using this service is to bookmark it and use it like a search or browsing service for shopping deals at the consumer's own leisure.
The lack of pressure eliminates impulse buying and therefore no buyer's remorse. Buyers come and go as they want and as the site is always on, merchants don't lose their presence in front of potential buyers as they do when advertising on daily deals. "The concept is very much like shopping malls and Sunday sales papers combined into one", says Sami Quazi the Founder and Chief Evangelist at quazter.com. "No one pressures you to go to a mall and you read your sales papers at your leisure to find deals, this is like going back to the days when shopping actually seemed fun instead being barraged with e-mails and spam that forces a shopper to make hasty decisions" says Quazi.
Quazter.com was started as an intelligent alternative to daily deals and after just three full weeks of operation it has evolved as a home for many shoppers who want to check out the deals before they head to a particular merchant's website. Quazter.com currently offers access to searchable product catalogs at over 1000 merchants and has an average of 5000 special deals listed per day. "Our intention is to evolve quazter.com into a lucrative channel for top internet merchants while protecting the identity of our site visitors" says Quazi. The company with only five employees is run mostly by an all student crew working remotely. Quazi states "with limited funding and resources we were still able to create and launch the service in under 6 weeks and we are continuing to innovate on a daily basis". The QDealFinder® widget was launched just a day before Black Friday to provide one-step access to shopping deals. QDealFinder® allows merchants to list their latest deals and automatically start and end their deals without manual intervention. A merchant can create future deals that show up for site visitors based on a schedule and therefore enables a powerful tool for merchants to create campaigns specific to holidays and other special events.
Quazter.com's initial success has come primarily from word of mouth and social networking tools on Facebook, Twitter, and Linkedin. "With a limited budget we had to resort to creative public relations, but for continued success we will eventually have to monetize our marketing efforts from external sources" says Quazi. For now quazter.com is busy mining its merchant partners for best deals to bring to its visitors and hopes to bring even more people to its site as the holiday season progresses with cyber Monday as the next big online shopping day.
About quazter.com
Quazter.com is your one stop shop for online deals. With over 1000 internet retailers participating, quazter.com brings premier top products and deals to consumers. What differentiates quazter.com is the ability to provide consumers with a robust selection of top products and top deals without invading their peace of mind. Quazter.com was created in response to the explosion of daily deal services that have sprung up all over the internet. Unlike daily deals, quazter.com offers a continuous fresh stream of deals from participating retailers while allowing the consumers to check out these deals at their own convenience. We at quazter.com believe that aggressive sales tactics may work initially, but they end up with unhappy consumers. Instead, we believe in the freedom of shopping for our consumers.
###