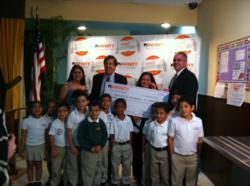 Corporate partners like Infinity Insurance are helping to positively shape the futures of these children every day.
Miami, FL (PRWEB) November 17, 2011
Infinity Insurance kicked off the season of giving as they hosted a celebration at La Progresiva Presbyterian School in Miami, Fl. on Tuesday, to promote bilingual literacy and announce their $1 million contribution to the Step Up For Students Scholarship Program. Focusing on the educational advantages that accompany bilingual literacy, the event gave families an opportunity to bond and learn more about important educational initiatives available in their community.
Infinity joined Step Up For Students as a corporate partner in 2011 and will contribute $1 million to fund more than 242 scholarships for low-income Florida children. In addition to their financial investment in the scholarship program, Infinity Insurance offered the Nov. 15th event to students from La Progresiva, a school that participates in the Step Up For Students Scholarship Program, as an interactive way to support reading in bilingual families.
More than 110 elementary students and their families gathered at the school to share a family-style dinner and learn more about Step Up For Students and Infinity's Read Conmigo, a parent-focused program supporting bilingual literacy. Read Conmigo provides parents with tools to improve their families' reading habits and foster a lifelong love of reading. The program also delivers bilingual children's books free to families, encouraging the importance of parents reading to and with their children.
Event attendees heard an inspiring personal story from a Step Up For Students scholarship parent and enjoyed a family-bonding story time that featured bilingual picture books from the Read Conmigo program. As families sat together with their own Read Conmigo books, La Progresiva teachers modeled how to read with children and encouraged parents to engage in family reading on a daily basis. Free books and school supplies were given to the families courtesy of Infinity Insurance and Read Conmigo.
Before the families gathered to hear a story read to them in both English and Spanish, Infinity Insurance presented the pledge of $1 million to Step Up For Students, which provides kindergarten-12th grade scholarships to underprivileged students in Florida. "Through this innovative program, we are able to help Florida families choose the best learning environment for their children, an option that they would otherwise not be able to afford," said Geraldine Villoch, Florida Divisional Manager for Infinity Insurance.
Step Up For Students is a nonprofit organization that administers Florida Tax Credit Scholarships to students so that low-income Florida families can choose a school that may better fit their child's learning needs. Students that qualify may receive more than $4,000 towards private school tuition or a $500 scholarship to help with transportation costs of attending another public school in a different county. Statewide, 36,000 children are receiving scholarships this year, including more than 8,000 in Miami-Dade County alone.
"We are honored to have Infinity Insurance as a contributor to the program," said Step Up For Students President Doug Tuthill. "Because of their generosity and commitment to Florida's low-income youth, 242 more children will have equal opportunities in their education. Corporate partners like Infinity Insurance are helping to positively shape the futures of these children every day." Since 2002, corporations like Infinity have contributed more than $900 million to Step Up For Students. Through this program, also known at the Florida Tax Credit Scholarship Program, corporations are able to help fund kindergarten-12th grade scholarships, and receive a dollar-for-dollar tax credit for the amount they redirect.
About Infinity Insurance
Infinity Property and Casualty Corporation (NASDAQ—IPCC) is a national provider of personal automobile insurance. Infinity Insurance is part of the Infinity Property and Casualty group of companies. Infinity received an A "Excellent" Financial Strength Rating from A.M. Best. For more information about Infinity, visit http://www.InfinityAuto.com.
About Step Up For Students
Step Up For Students is an initiative of the Florida Tax Credit Scholarship Program which provides K-12 scholarships for low-income children to attend a public or private school of choice. The scholarship program was created by the Florida Legislature in 2001 and is funded by corporations that redirect certain types of Florida tax liabilities to the program in exchange for a dollar-for-dollar tax credit. For more information, visit http://www.StepUpForStudents.org.
###