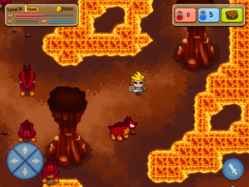 Burlingame, Calif. (PRWEB) November 17, 2011
In the wake of Adobe's announcement last week that it will suspend all further development of its mobile Flash plug-in, a vacuum has emerged for game developers seeking to take their Flash skill sets to mobile platforms. In response, YouWeb-backed Sibblingz, is announcing version 3.0 of its Spaceport platform, which replaces the need for Adobe's mobile Flash plug-in for high-performance gaming, while enabling full compatibility with Adobe's PC content creation toolset. With the release of Spaceport 3.0, Sibblingz is set to take up Adobe's mantle and fill the void left in the massive Flash games developer community.
"As Adobe withdraws its support for mobile Flash, game developers are looking for alternatives to bring Flash-based games to popular smartphone and tablet platforms. Solutions like Spaceport come at a key time in the evolution of mobile gaming, as developers look to reach new markets across a variety of mobile OS environments and need a solution that works with their current authoring tools," states analyst Michael Cai, VP of Research Interpret LLC.
Spaceport 3.0 is the most advanced iteration of Sibblingz's mobile game development and rendering platform yet. Spaceport 3.0 enables developers to continue writing games with Adobe's popular desktop-based authoring and content creation tools while making the games instantly usable on iOS, Android and HTML5. Spaceport 3.0 APIs are based on the Flash API set, but available in Javascript for compatibility with HTML5, while the rendering engines for iOS and Android are developed in native C++ and leverage the GPU and OpenGL 2.0 heavily to deliver the performance that the Flash plug-in could not have delivered using just the CPU.
Spaceport 3.0 includes:

Support for all of the Flash API needed for high-performance gaming based on open standards like HTML5 and JavaScript.
A new and improved web service that automatically converts Flash animations created in Adobe tools as "SWF" files into Spaceport vector graphics that are 10X smaller than sprite sheets and render with no pixilation at any resolution.
A new and improved rendering engine for iOS and Android devices which boasts high performance GPU-based rendering, as opposed to the much slower and battery-hogging Flash plug-in which utilizes the CPU. This allows heavy-duty 2.5 D isometric social games like Zynga's Empires and Allies with dozens of animations on one screen, to run on a mobile device at fast frame rates.
Soon, an upcoming version of Spaceport will also include an IDE for HTML5 Javascript development that will make the transition for Flash developers to move to HTML5/Javascript straightforward.
"Adobe is a great tools company and we will support their tools while doing what they failed to do: provide the developer community with a solution that works in this new mobile era," says Sibblingz founder Ben Savage. "Spaceport 3.0's mobile rendering engine is the rendering engine for the mobile web, and JavaScript is the new ActionScript."
Spaceport 3.0 uses JavaScript instead of ActionScript to support high performance HTML5 games on Android and iOS, and offers enormous improvements in performance. In a side-by-side comparison, games rendered with Spaceport 3.0, run visibly faster on Android, versus rendering through the Flash mobile plug-in. Sibblingz has published a video comparing the performance of Spaceport to the Adobe Flash Player on an Android device.
Watch the test in action by following this video link: http://youtu.be/Tl6SpUgxMiw
Spaceport is free for developers and offers a number of benefits:
Industry standard JavaScript-based platform supporting HTML5 based games, and high performance native games.
Automatic conversion of Flash art to HTML5 SVG, and vector graphics in native apps without requiring time consuming sprite sheets.
No updates required: run games as services from Spaceport servers
No risk licensing model with no up front costs.
"Ben and his team at Sibblingz have accomplished with 10 developers what Adobe failed to do with hundreds: provide a seamless path for Flash artists and developers to create mobile applications," said Peter Relan, Founder of YouWeb and co-founder of Sibblingz. "We welcome the opportunity to step in and offer this channel to mobile, and we look forward to working with Adobe as a tools company."
To learn more about the Sibblingz Spaceport offering visit http://www.spaceport.io.
About Spaceport:
Spaceport.io is a YouWeb incubated social games technology firm with offices in Burlingame, California. The company offers the first game engine made for the multi-device world enabling developers to take advantage of the massive growth in PC and mobile social game adoption. The Spaceport platform gives developers the ability to build a social game that plays across all devices including uninterrupted and synchronous game play. Games built on Spaceport, enable consumers to play a specific game and then continue the experience across an array of popular platforms, ranging from Facebook to Google Android and Apple iOS.
###