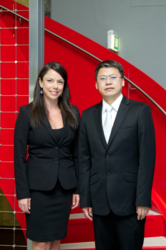 Frontier Solar is an expanding and profitable Australian solar mounting technology company that designs and produces the entire spectrum of mounting systems.
Sydney, NSW (PRWEB) November 18, 2011
Frontier Solar Limited (SIM:FSO) a Brisbane, Australia-based solar mounting technology company with patented designs for reduced installation times, high wind resistance and tracking, with an established residential and large-scale international client-base has announced a $6m Initial Public Offering (IPO).
The Company's is the first IPO for the Asia region's newest stock exchange – SIM VSE, located in Sydney, Australia – which is focused on tapping the fast-growing cleantech sector in the Asia region and attracting international investors.
Frontier Solar's technology brand Frontierac is produced by the subsidiary company based in Shanghai, established in 2005.
Frontier Solar is an expanding and profitable Australian solar mounting technology company that designs and produces the entire spectrum of mounting systems; ranging from rooftop to ground, from fixed installations to solar trackers, from residential to commercial power plants.
The IPO is by way of a Replacement Prospectus dated 8 November 2011, with the intention of listing on the SIM VSE late December 2011.
The IPO is for the issue of 24,000,000 Ordinary Shares at an offer price of $0.25 each to raise a total of $6,000,000 with a minimum subscription of $4,000,000.
AFS Capital Securities Ltd, trading participant of SIM VSE, undertakes the Lead Manager of this IPO.
Frontier Solar will be the first clean tech company to IPO since the passing of the Australian Government's Clean Energy Future (CEF) package.
Frontier Solar CEO Robin Wu said the Company's technology is ranked among the top 10 mounting technologies in both Australia and China.
"We have an extensive client-base in the Asia region, Europe, Middle East and the USA and our technology was recently deployed in the largest commercial solar rooftop installation in China, and the largest in Australia at the University of Queensland – a 1.2 Megawatt facility," said Wu. Images available http://omc.uq.edu.au/images/SolarLaunchImages
"Frontier Solar is pleased to be the first IPO on SIM VSE. The Exchange brings investors from across the Asia region that understand the key role clean technology will play in our future."
The Company's brand, Frontierac, is an innovative design engineering leader with five patents granted and four patents pending.
ENDS
Investment highlights:

Strong leverage to the high growth global renewable energy markets via a proven and profitable product.
Geographically positioned in the world's most attractive and fastest growing renewable energy markets; namely Australia, China and potentially India in the near future.
Low-cost China-based manufacturing capacity.
Management has extensive industry experience in specific solar rack technologies.
Innovative engineering approach to evolving solar market demands.
Product patent protection provides a significant and sustainable competitive advantage.
Well-known brand name in key markets of China and Australia, with a top 10 ranking in the Australian solar mounting market through its Frontierac brand name.
Extensive international clients and contracts with an expanding global customer- base.
Business strategy highlights:

Construct a manufacturing facility in Kunshan, near Shanghai, China to maintain low-cost manufacturing capabilities, with the ability to ramp-up production levels as necessary. The factory will incorporate:
o An R&D centre to design and develop new products to expand the solar mounting and trackers niche market;
o A showroom to display existing products;
o Equipment to allow manufacturing of the Company's unique patented design solar mounting systems, including the newly developed F1 model, and the F7 model once design and testing is complete;

Open sales offices in Queensland in Australia, and Europe and the USA;
Develop a joint venture with an Indian manufacturing company so the Company can participate in the rapid growth of the Indian solar industry.
Potential investors should talk to their broker or contact AFS Capital on ipo@afscapital.com.au or visit http://www.frontier-solar.com.au for more information.
A copy of the Replacement Prospectus dated 8 November 2011 with a closing date 7 December 2011 is available at http://www.frontier-solar.com.au or https://events.miraqle.com/Frontier-Solar. It replaces Prospectus dated 28 October 2011 relating to shares of Frontier Solar Limited ACN 153 081 184. Investors should consider the Revised Prospectus in deciding whether to acquire any securities in Frontier Solar and will need to complete the application form that accompanies the Replacement Prospectus.
About Frontier Solar
Frontier Solar, based in Queensland, Australia, engineers, produces and sells solar mounting technology. Frontier Solar's patented designs reduce installation time, offer high wind resistance and sophisticated solar tracking. The Company has an established international client-base for its technology which includes rooftop to ground, fixed installations to solar trackers, and residential to commercial power plants. The technology was the first solar mounting system developed in China.
About SIM VSE
SIM VSE; committed to leadership in innovation
The SIM Venture Securities Exchange is a regulated Stock Exchange licensed by the Australian government and supervised by ASIC. The focus of the exchange is to provide issuer companies with a listing venue that is positioned for the Asian region with a particular emphasis on the China market in addition to the more traditional sources of investment and trading.
SIM VSE is committed to reducing barriers to the development of certain market sectors including clean technology, renewable energy and related technology, life sciences and related service companies, and providing the most cost effective and efficient listing process within the structure of a regulated and licensed market place.
###