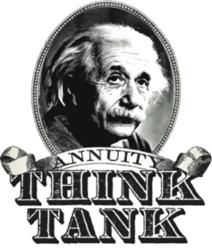 Annuity Think Tank Becomes Accredited With The Better Business Bureau
Houston, TX (PRWEB) November 17, 2011
Annuity Think Tank, the #1 Rated Site for all things annuities, announces their acceptance as an Accredited Business in the Better Business Bureau. The Vision at Annuity Think Tank is to be the first place advisors come to for innovative annuity solutions, unbiased annuity education, annuity research, and the most comprehensive annuity information on the web.
The Think Tank realizes one of the key traits to remain the top site for annuity advisors and their clients is reliability and trustworthiness. Moreover, nothing encompasses those two traits more than the BBB.
In fact, the BBB Standards for Trust are as follows:
Build Trust
Establish and maintain a positive track record in the marketplace.
Advertise Honestly
Adhere to established standards of advertising and selling.
Tell the Truth
Honestly represent products and services, including clear and adequate disclosures of all material terms.
Be Transparent
Openly identify the nature, location, and ownership of the business, and clearly disclose all policies, guarantees and procedures that bear on a customer's decision to buy.
Honor Promises
Abide by all written agreements and verbal representations.
Be Responsive
Address marketplace disputes quickly, professionally, and in good faith.
Safeguard Privacy
Protect any data collected against mishandling and fraud, collect personal information only as needed, and respect the preferences of consumers regarding the use of their information.
Embody Integrity
Approach all business dealings, marketplace transactions and commitments with integrity.
Annuity Think Tank realized it was crucial to align their values, principles, and standards with that of the Better Business Bureau to further their credibility nationwide. The BBB logo and brand have been closely associated with integrity and trust for consumers and businesses for many generations.
About Annuity Think Tank
Annuity Think Tank is designed to cater to financial planners and insurance professionals as the most comprehensive annuity information center in the country. Annuity Think Tank is a place they can count on to get unbiased and creative solutions for their clients including annuity calculators, lifetime annuity income calculators, and a broad array of annuity white papers and reports.
###