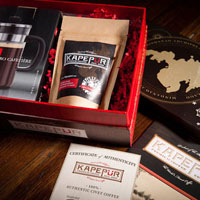 "This coffee is ridiculous! Reminds me of a lightly toasted marshmallow with a hint of bittersweet chocolate." - Chef Kenny Gilbert, Top Chef Season 7
Jacksonville, FL (PRWEB) November 18, 2011
Foodies, thrill-seekers and anyone who loves great coffee will enjoy the taste of KapePur. It's easy to appreciate the unique flavor and harvesting process, as well the benefit to the Filipino people.
KapePur is 100% authentic, wild, and naturally processed in Mindanao, Philippines. The beans are ingested by a cat-like animal called the Asian Palm Civet, then "deposited" on the jungle floor. Sounds strange, right? Here's how it works.
It all starts with the Asian Palm Civet. It eats only the ripest, sweetest coffee berries during the three-month Filipino growing season. While inside the civet ,the berry's skin is digested leaving only the coffee bean. The bean then undergoes physical and chemical changes, similar to a form of fermentation. The result is a bitterless, smooth-tasting coffee with chocolaty notes that only this special process can provide. As coffee aficionados know, civet coffee is similar to the Indonesian Kopi Luwak. However, wild Filipino civets, high-quality coffee and small-batch roasting give KapePur its superior taste.
These unique beans are not only made and harvested in a strange way; they also serve a purpose. KapePur has been a beacon of hope for the farmers and residents of the Cotabato Province of Mindanao. Many in this region of the Philippines suffer from extreme poverty and lack of resources due to years of war. Through a partnership with the Mindanao Land Foundation, civet coffee sales provide local farmers with much needed revenue. Ultimately, the sale of KapePur will help them break-out of their cycle of poverty and restore their livelihood.
KapePur is currently available online at http://www.kapepur.com in 2 oz. and 4 oz. gift boxes, as well as 4 oz., 8 oz. and 12 oz. bags. Custom-designed gift boxes come with a 12oz. French Press, color story book and a Certificate of Authenticity. KapePur bags come with a color story book and a Certificate of Authenticity.
Pricing is as follows:
2 oz. Gift Box, $85 4 oz. Bag, $109 12 oz. Bag, $289
4 oz. Gift Box, $130 8 oz. Bag, $199
If you'd like more information, please email your questions to info(at)kapepur(dot)com, or call 888.966.9911.
ABOUT KAPEPUR
KapePur is dedicated to the idea we can change the world by fostering mutually beneficial partnerships and focusing on high-quality products. We are committed to selling the finest coffee in the world, while giving back to the people and protecting the animals and planet that make it possible.
People Planet Product Partnership
###