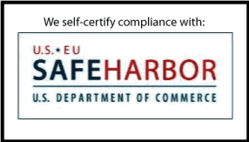 Safe Harbor offers formal assurance to our European customers that they will be compliant with local data privacy legislation when managing OH&S data with Medgate."
(PRWEB) November 17, 2011
Medgate America Corp., the leading global provider of software for occupational health,safety and environmental (OH&S) data management, is pleased to announce that it has been certified compliant with the U.S. – E.U. and the U.S. – Swiss Safe Harbor framework by the U.S. Department of Commerce. Medgate is now formally on the Safe Harbor list, which constitutes a representation to the Department of Commerce and the public that it adheres to a privacy policy that meets the safe harbor framework.
Medgate offers its OH&S software suites on both a software-as-a-service (SaaS) model - where Medgate hosts its customers' data - and a customer-hosted model. The system stores personal employee HR data, information pertaining to occupational injuries and illnesses, and personal health information such as wellness data. The personal data is available only to authorized users who have been granted the site, role or action level security to access such records.
The Safe Harbor framework bridges the differences in approach to data privacy protection between the United States and the European Union / Switzerland. Medgate provides its OH&S software to organizations all over the world, including to U.S. multi-national corporations that may wish to process employee health and safety data from their EU affiliates in the U.S. for aggregate reporting purposes. Medgate's customers must ensure that, when managing this employee data, they comply with all applicable data privacy regulations.
"Data protection and regulatory compliance is of critical concern to Medgate's customers," states Stan Marsden, Medgate's Chief Security Officer. "For this reason, we have achieved ISO 27001 certification for information security management systems and continue to demonstrate our commitment to data protection with our compliance to Safe Harbor. Safe Harbor offers formal assurance to our European customers that they will be compliant with local data privacy legislation when managing OH&S data with Medgate."
About Medgate
Medgate™ (http://www.medgate.com) is the global leader in occupational health and safety software. Medgate's Occupational Health, Safety, Industrial Hygiene and Environmental software products have the most comprehensive functionality and user-friendly design in the market. Available in multiple languages, Medgate software is used across the globe in hundreds of the best known corporations and government entities.
The Safe Harbour logo attached to this release links to the following pages:
safeharbor.export.gov/list.aspx
export.gov/safeharbor/
###