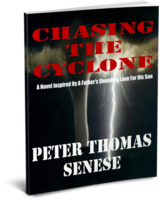 Peter Thomas Senese has generously given of his time and talents to raise the public awareness in areas related to international parental child abduction . . . Carolyn Ann Vlk
New York, New York (PRWEB) November 17, 2011
Peter Thomas Senese's novel "Chasing The Cyclone" has been hailed as a masterful international legal thriller that enraptures readers into the dark and unthinkable world of global parental child abduction. Inspired by the best-selling author's own experiences racing into the storms of child abduction, critics and readers alike have called "Chasing The Cyclone" a Call-To-Arms against this worldwide epidemic and Peter Thomas Senese as a master storyteller. "Chasing The Cyclone" will be released on December 1st, 2011 in hardcover and is now available via E-book from online merchants.
Since the time he was forced to chase the cyclone of child abduction, Peter Thomas Senese has become an active advocate of child abduction prevention, including participating in initiatives to pass new laws such as Florida's "Child Abduction Prevention Act', and successfully sought to widely utilize existing federal policy in order to protect children from abduction such as the "Prevent Departure Program". Presently, Mr. Senese is actively engaged in seeking two new federal policy overhauls: the first would modify the "Western Hemisphere Travel Initiative" so that all American citizens regardless of age would be required to present a passport when traveling abroad by land, sea, or air. The second initiative, as recommended by the GAO, is to create a secondary airline screening list for individuals possessing American citizenship considered to be high-risk child abductors.
Peter Thomas Senese has written prolifically about child abduction prevention, including numerous essays and the previous publication of the groundbreaking and extensive IPCA resource guide "The World Turned Upside Down" he co-authored with Carolyn Vlk that was made available as a free E-book, However, "Chasing The Cyclone" is a deeply personal novel that was inspired by the author's own experiences. "When I wrote "Chasing The Cyclone" the words flowed onto the pages very easily. My previous novels are based upon heavy research. In this story, my research was my life's experiences."
Added Peter Thomas Senese, "Chasing The Cyclone" is an entertaining book that puts the reader on a roller-coaster of emotions - which is something every targeted parent of abduction experiences. In fact, I am pleased to say that I have had more than one reviewer write to me and tell me that while in the midst of reading this novel, they actually physically threw the book due to pure frustration over the story's protagonist's unthinkable experiences while fighting to find and reunite with his son, only to immediately pick up the book and continue reading - only to want to throw the book again - which means they're feeling what every targeted parent feels."
Critics and readers have praised "Chasing The Cyclone".
... "Chasing The Cyclone" isn't just a powerful novel; it's a call to arms against a growing epidemic that is tearing lives apart behind the headlines . . . "Chasing The Cyclone" is much more than just a superb, can't-put-down novel, though; it is a book with a purpose . . . Thomas has become an outspoken advocate on this issue, and 'Chasing The Cyclone' makes for a clear and profoundly effective call to action. I would go so far as to encourage every loving parent to read this book, as the bond between this father and son is one to be emulated . . .
(Renowned book reviewer Daniel Jolley)
... "Chasing The Cyclone" will shake the audience, this exciting cautionary thriller grips readers from the onset ... (Renowned book reviewer Harriet Klausner:)
... Peter Thomas Senese now opens the windows on the magnitude of these tragedies in his excellent "Chasing The Cyclone" . . . As if the fast paced energy of this story weren't enough to satisfy the reader, Peter Thomas demonstrates his quality as a writer of distinction on many levels . . .this impossible to put down book . . . (Renowned book reviewer Dr. Grady Harp)
. . . Chasing the Cyclone" is the second book I've read by Peter Thomas Senese, and like "The Den of the Assassin," it's a real page turner . . . This was a book I could not put down. Thomas has a gift in writing a compelling novel that not only keeps the reader engaged, but educates as well (Renowned book reviewer Shelley Gammon)
Mr. Senese commented on his activism. "For the vast majority of defenseless children and their parents who are targeted for international parental child abduction, they enter a horrific, little-understood world where law and order and justice are fleeting concepts, but typically not reality. Knowing this first-hand, and having successfully navigated this ordeal under the Hague Convention, it was important to me to try to make a difference and help other targeted children and parents. Having a voice as an established storyteller has allowed me to do some of that in both written word and in the creation of the educational documentary film 'Chasing Parents'. Yet there is a great deal of work to be done, and so initiatives continue."
Patricia Lee, a highly respected international family law attorney practicing international child abduction for nearly 20 years and a Director of the I CARE Foundation (International Parental Child Abduction Research and Enlightenment Foundation) stated, "I had the pleasure of meeting Mr. Senese first, not as an acclaimed fiction writer, but as a dedicated child advocate helping victimized parents work through the morass of financial, legal and practical issues in their attempts to reunify with their children.I am humbled by his fierce dedication and support to the I CARE foundation, which portends to be a milestone in the State Department's efforts to recruit and train lawyers in this area of the law in order to better serve targeted children and parents, while also educating an uneducated judiciary. Thank you, Peter for all of your impactful dedication."
Joel S. Walter, another Director of the I CARE Foundation and a lawyer who has practiced primarily in the federal courts for 35 years added, "I remember when Peter first became aware of his own child's abduction as I was one of his very first phone calls. His ordeal was unthinkable, and the challenges he faced beyond every parent's nightmare. Yet Peter did everything he needed to do: in essence stopping everything he was doing and dedicated his time and resources toward reuniting with his abducted son, who was taken to the other side of the world. Knowing Peter for as long as I do, and knowing him for the good-natured, generous, and direct man that he is, I was not surprised to see him try to make important changes in the world of abduction prevention so that other parents and children will never have to experience what he and his family have. The I CARE Foundation is actively making a difference for other parents, and Peter Thomas Senese is a very big reason for this."
Pamela Michell, one of our nation's most outspoken and respected human trafficking advocates, and the Founding Director of SURVIVOR ON A MISSION said of Peter Thomas Senese, "For two years since I have known Peter Thomas Senese, I am flawed by Peter's dedication and commitment to children and their parents. He is sincere, unselfish, and highly productive and unbowed in his beliefs. As both dear friend and professional colleague, I am proud Peter and his impactful activism."
Carolyn Vlk, writer of Florida's Child Abduction Prevention Act and co-author of numerous publications with Mr. Senese, added, "Peter Thomas Senese has generously given of his time and talents to raise the public awareness in areas related to international parental child abduction. His Chasing The Cyclone website is a comprehensive resource for those searching for information on how to better protect children. His volunteer efforts include actively advocating for tougher and more complete legislation that will prevent this tragic crime from occurring. At risk children and families are fortunate to have his input and influence as an advocate in the prevention of this unthinkable offense."
Please visit the official website of "Chasing The Cyclone". To learn more about Peter Thomas Senese, please visit the author's official website.
###