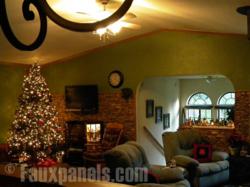 With just basic tools you can change a room's look in a couple of hours.
Deer Park, NY (PRWEB) November 21, 2011
Your home's holiday decor this year can feature fast, simple but visually stunning interior redecorating by using budget friendly faux wood, stone and brick from industry leader FauxPanels.com and FauxWoodBeams.com
"It's amazing the huge impact an accent wall or some trim pieces can have on the entire look of a room," said Steve Barron, president of Faux Wood Beams and Faux Panels.
Today's synthetic panels and beams are created from molds of genuine stone, brick and wood beams to replicate their natural beauty. Yet thanks to modern polyurethane foam, they're virtually maintenance free, highly durable, fast and easy to install, and much more affordable than their genuine stone or wood counterparts.
Even better, they're a DIYer's dream.
"If you can use basic tools like a hammer and screwdriver, you can install faux panels," said Steve Barron. "It goes up so fast – you can do an entire wall in one to two hours."
Even homeowners who want to hire a contractor benefit from the quicker installation time. Less time means lower labor costs.
Here are four small or medium projects that will add some zing to your holiday home decor just in time for Christmas, Hanukkah, Kwanzaa and New Year's.
1. Accent Treatments Change the Look of an Entire Room
Less is more, especially in decorating. Rather than doing an entire room in faux stone or brick, just do a small segment, creating a focal point for the entire room.
Covering a fireplace in faux stone or brick is a common way to change styles. Another home decorating idea is continuing the design all the way up to the ceiling – a great technique that can create the appearance of a higher ceiling.
2. Give Those Holiday Stockings a Better Home
A new fireplace mantel is a super quick and easy way to change the look of a room during the Christmas decorating season. In addition to faux wood styles – many available in a Class A Fire Rating for additional peace of mind – genuine wood mantels are also available.
If you like your current mantel but want to change its appearance, corbels can be added underneath as decorative support features. Even better, you'll be done in less than an hour.
3. A Little Trim Goes a Long Way
Adding a few faux wood beam knee braces livens up porch supports, and they're incredibly easy to install. Because they're made of durable polyurethane, pests like termites have no interest in them and they hold up in even the most severe weather conditions – like a very snowy winter.
Knee braces add character year round but during the holidays, a string of holiday lights or pine garland wrapped around them would add even more visual interest for Christmas curb appeal.
4. Mail Those Holiday Letters With Style
Mix some practicality with an exterior redesign by installing a faux stone column with a mailbox near the end of your driveway or by the front door. It's a very simple DIY project that creates a visual anchor for the front of your home – and it's completely weather resistant.
"People think 'redecorating' and assume it has to be a huge project but little changes like this can really make a big difference to the look of a room while still getting it done in time for the holidays," said Steve Barron.
About FauxPanels.com and FauxWoodBeams.com
FauxPanels.com is an industry leader due to wealth of installation guides for DIYers and the best selection of the realistic faux brick, stone and wood panels and columns on the market. FauxWoodBeams.com leads the field of polyurethane wood beam products, ceiling panels and architectural products. Products from both companies have been regular featured on television shows such as "Celebrity Apprentice" and numerous appearances on "Extreme Makeover: Home Edition." Both are subsidiaries of Barron Designs Inc., a family-owned home improvement business operating since 1972. For more information, visit FauxPanels.com and FauxWoodBeams.com.
# # #