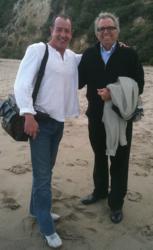 It breaks my heart to see what the Lohan family is going through," Angelo continues. "None of this has to happen but I know God has a special plan and purpose for anyone who wants to get serious with Jesus Christ.
Los Angeles, CA (PRWEB) November 17, 2011
It is not every day that a prison minister gets the chance to speak at a social event yet alone receive a special award. Therefore, Marty Angelo didn't know what to expect when he was invited to deliver this year's keynote address on Nov. 11th at the annual prison ministry banquet of the Shadow Mountain Community Church in San Diego California.
"It is very seldom that I get a call to speak outside of prisons, rehabs and courtrooms." Angelo remarked. "My ministry is mainly conducted behind the scenes so I felt very honored and humbled by this invitation."
According to Angelo the event was a huge success. There were over 150 people in attendance with all the same passion of wanting to help those incarcerated in the local, state and federal prisons in the San Diego area.
"There were so many exciting testimonies of God's saving grace, mercy and love that I didn't want the evening to end." Angelo remarked.
A big surprise came after Angelo finished his address and was asked to return to the podium to receive a special recognition award for his 30 years of prison ministry service. Angelo was stunned and almost speechless when he accepted the plaque honoring his; "faithful and tireless efforts in ministering to inmates, ex-offenders, and all those impacted by incarceration, resulting in countless lives yielded to Our Lord and Savior, Jesus Christ."
Angelo spent the entire next day ministering to prisoners in the state R.J. Donovan Correctional Facility in San Diego, CA. The last time Marty Angelo visited the San Diego area was back on December 17, 2010 to testify in the courtroom at the San Diego County superior court with Judge Harry Elias presiding, for the sentencing hearing of "40-Year-Old-Virgin" actor Shelley Malil who was sentenced to life in prison with possible parole in 12 years for stabbing his ex-girlfriend (case #SCN249433).
No stranger to the entertainment industry, Angelo knows the trials and tribulations that troubled celebrities and their families face. He worked in the music business from 1965 to 1980 and knows first-hand many of the same ups-and-downs today's celebrities are experiencing.
Angelo has reached out to the likes of Mel Gibson, Paris Hilton, Charlie Sheen and numerous others over the last six-years since he released his autobiography, "Once Life Matters: A New Beginning." Because in his heart, Angelo truly believes and knows that God can bring about a very positive life-changing experience, much the same as Angelo received back in 1981 when he was facing over 60 years in prison for cocaine possession.
On November 2nd, Angelo was in court to spiritually support troubled actress Lindsay Lohan and was asked to deliver a message from her father, Michael who was incarcerated at the time in Tampa, Florida. He was released on probation on Wednesday after pleading no contest to various domestic abuse charges.
"It breaks my heart to see what the Lohan family is going through," Angelo continues. "None of this has to happen but I know God has a special plan and purpose for anyone who wants to get serious with Jesus Christ. Now that Michael Lohan is finally released from jail I pray he will continue to keep working on himself and seek a better way to handle his troubles. I am here to help him in whatever way I can. I recommended that he enroll in a faith-based program and am thankful to learn today he has taken my advice." Angelo has frequently reached out to the Lohan family since 2007 when Michael first contacted him to try to help his daughter.
Angelo can completely relate, as he was once known as "Party Marty" in Buffalo New York's Allentown neighborhood, where he owned a bar, Angelo spent a few years in federal prison following his cocaine arrest.
Often known as "The Controversial Prison Minister," Angelo blames Michael Jackson's death in 2009 on both Jackson and his doctor Conrad Murray.
"No one is immune to the consequences of substance abuse." Angelo recently remarked to a celebrity internet news reporter. "To the rich and famous drugs can be administered in the comfort of their own bedrooms or a down-and-out addict can sit in Needle Park in New York City on a filthy bench to abuse drugs." Angelo continues. "Nonetheless, the consequences remain the same: prison, hospitalization or death. It is unfortunate for Michael Jackson that his consequence was death. With all of his fame and fortune he probably thought he was protecting himself by hiding away in a rented Beverly Hills mansion thinking he could pay a doctor to justify his addiction and not have to pay a price. There is an old saying in substance abuse treatment which is: 'You play… You pay.'"
Angelo believes there is a way to beat all three consequences of substance abuse by turning one's life over to Jesus Christ and entering into a faith-based recovery program. God brings total deliverance not only from the addiction itself but also from the desire to ever want to abuse drugs or alcohol again. "Many people who have read my book have told me it's really funny and very entertaining. That's wonderful, but my true message is that there is always hope that God has a better way." One can certainly see that in Marty Angelo's book "Once Life Matters."
Marty Angelo started in full time ministry back in 1981 after his electrifying conversion to Christianity.
http://oncelifematters.com/media/videos/
Contact: Marty Angelo – Once Life Matters Ministries, Inc. http://www.oncelifematters.com - 805-405-8174 – marty(at)oncelifematters(dot)com
###