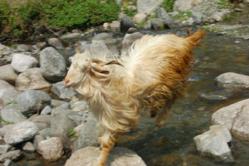 Mystic World Of Pashmina
Greater New York Area, New York (PRWEB) November 18, 2011
To most people, Pashmina may mean any small wrap that they would like to wear and flaunt it. To some it means a pattern or a design and for some it is a cute little goat. However what exactly is Pashmina and why it is used for such a varying types of imaginations today. In some movies Pashmina name is used to mention a beautiful red scarf just when they would like to add an adjective to an scarf and in a TV serial it has been mentioned as a some thing that has magical powers.
Indeed for a word, Pashmina has quite a popularity and may stand with other commonly used words that became a genre – like xerox or google. To find what Pashmina actually meant, we talked with a Pashmina enthusiast – Anu Chandwani who is the president of Home Of Pashmina and owner of HOP Cashmere Brand of Pashminas. According to Anu - "Pashmina can stand for many different things that are closely associated with word Pashm in Persian. Pashm means fine wool and over time the word has been used to name a nice woolen shawl or a cashmere scarf. Around mid last century when Pashmina word proliferated around the world, it took several meanings from a small scarf to a large throw or even to a goat that grows this fine wool called Cashmere. So the name lost its original meaning and acquired many new and exciting meanings."
With passing time, the Pashmina name was trademarked by people in the developed world to name various items that had no association with the fine wool or Pashm as it is called. Thus the real meaning was kind of lost to the disappointment of the people in Asia who firstly came up with this word and the fabric associated with it. At present there is no official designation for word Pashmina and the Cashmere and Camel Hair Institute (Cashmere.org) which is the most respected body worldwide for the standardization of Cashmere in the world does not mention Pashmina instead mentions Himalayan Goat hair as Cashmere of finest quality.
Based on the survey conducted by Metastats Limited of India, the word Pashmina is mostly attributed to a medium sized scarf, something that is made with part cashmere, part silk, part wool, is light enough to become a fashionable scarf around the neck and can become a warm wrap around the body when needed. The size of the Pashmina may vary – for western world it is generally approx. 30 inch wide and 80 inch long and for Asia it is wider up to 40 inches for Men Pashmina and 100 inches long. So even in its birthplace, there is no clear understanding if Pashmina is a scarf, a wrap or a shawl.
With no official status as a content in a fabric, Pashmina is normally not used in the weight percentage labels by reputed companies. Most companies that make Pashmina use the content label to show the Cashmere content in the fabric and relegate the word Pashmina for marketing as it evokes a fashionable warm response in the consumers minds.
Some countries in Asia have initiated the efforts to bring back the glory of the word Pashmina and get it a trademarked status, however with the Cashmere wool being created in so many countries and areas in high mountains of Asia, the likelihood of it becoming a trademark anytime soon is a far cry. Countries like Nepal has started the effort to register "Nepal Pashmina" as a Trademark and some region of India wants to call it Kashmir Pashmina however for the customers in western world, Pashmina will keep its charm as a nice warm scarf that evokes romance and love and a buzzword for the media.
About the Author:
Rex C is a freelance writer and has writes about the fashion, style and family affairs. Rex has traveled to Himalayas and surrounding areas many times and enjoys treks with the local people there. In his free time, Rex consults the small businesses that are involved in the trade of Cashmere yarn and Cashmere fabric.
###