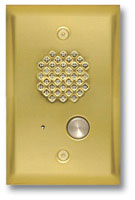 We provide our customers with the best door & gate phone equipment to secure their property and ensure their privacy
Bay Shore, NY (PRWEB) November 17, 2011
Online VoIP Equipment, business VoIP service, hosted PBX, business phone system, and general telephony equipment and support provider TelcoDepot.com has launched a new range of door & gate phones on its web store. TelcoDepot.com now provides single door & gate phone controllers, advanced door and gate phone controllers, compact entry door phones, surface mount enclosures for compact entry phones, vandal-resistant SIP-enabled VoIP door phones, enhanced network station ports, enhanced networked trunk ports, and accessories. The door & gate phones are high quality models that facilitate residential and private office security and communications, and TelcoDepot.com also provides expert support for installation, cabling, configuration and any programming, troubleshooting or assistance that may be required before or during use of the systems. Discounts are also available on some models.
Door and gate phones are critical for residential and private-office security and communications, and control access and communications on private property and secure locations.
TelcoDepot.com now stocks single door/gate phone controller units (connects to an unused line port on telephone system), advanced door/gate phone controllers (control up to 4 door phones connected to an unused line port of telephone system), compact entry door phones (available in polished brass, stainless steel, black, white and bronze), surface mount enclosures for compact entry phones (vandal and weather resistant), Valcom SIP-enabled VoIP door phone (vandal-resistant, integrates with VoIP or digital phone systems), Valcom enhanced networked station ports, Valcom enhanced networked trunk ports, and many other units and accessories.
"At TelcoDepot.com, we provide a total communications solution for businesses, and we offer everything from office phones to VoIP gateways and cabling installations. We ensure that businesses have the tools to continue communicating properly, profitably and scalably. We also offer door and gate phones as part of our range of communications equipment for residences and private or secure locations. We provide our customers with the best door & gate phone equipment to secure their property and ensure their privacy," says Tom Grinde, V.P. Sales, TelcoDepot.com.
TelcoDepot.com provides a variety of communications tools for businesses, from door and gate phones to VoIP equipment, business VoIP service and hosted PBX services, and in every case, professional attention is paid to the unique requirements of each business to determine the best solutions for them.
To learn more about door phones, gate phones and related accessories available from TelcoDepot.com, including specifications and pricing, visit http://www.telcodepot.com/phone-system-equipment/door-phone. For additional inquiries, call TelcoDepot.com support lines on 1-800-390-1200 or send an email to info(at)telcodepot(dot)com.
About Telco Depot
Telco Depot is a leading supplier of quality business telephone systems, business VoIP service, VoIP phones, phone headset equipment, video surveillance systems, voice & data cabling solutions, conference phone solutions and Microsoft Response Point Systems. The company's top priority is to help its clients make informed decisions based on their specific small business phone system needs by providing experience and expertise and guiding them in selecting the best phone systems for their businesses. Telco Depot ensures that their phone systems are fully scalable, affordable priced, and provide the highest value for their clients.
# # #