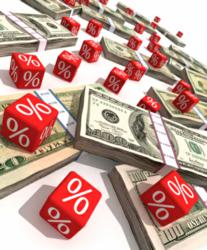 This is a similar situation to 2005 where it was difficult for people to understand that the real estate market would crash. The 10-year old bull market in gold is screaming 'Higher inflation rate ahead!'
New York, NY (PRWEB) November 18, 2011
Profit Confidential, the popular stock market and economic e-letter, says that rapid inflation will become a big problem for America in the months and years ahead.
According to Profit Confidential, "To get us out of the credit crisis, the Fed opened the money taps in 2008 and has been expanding the money supply aggressively since then. There are those who believe that the economy has simply been kept alive the past three years because the Fed's proverbial printing presses have been running overtime. And there certainly is a lot of money in supply. Corporate America has a record $2.0 trillion in the bank, as they prefer to conserve their cash rather than expand their businesses. The Fed has gone through two rounds of quantitative easing and may be getting ready for a third."
Profit Confidential quotes a statistic from the American Farm Bureau Federation, which says that the cost of this year's typical Thanksgiving dinner will jump 13% from the previous year—the biggest percentage jump in 20 years. And, according to the United Nations, world food prices are up an astonishing 68% (talk about an accelerated inflation rate) over the past five years.
Even the U.S. government is predicting that the inflation rate this year will be between 3.5% and 4.5%—the fastest pace in three years.
Michael Lombardi, lead contributor to Profit Confidential, writes, "The more a country prints of its currency, the higher the eventual inflation rate in that country. Lombardi believes the government and the Fed want the inflation rate to accelerate to reduce the risk of falling into deflation. "But this massive amount of monetary stimulus could eventually lead to an inflation rate reminiscent of the early 1980s—which ultimately led to sharply higher interest rates." It may be difficult for investors and consumers to envision a sharply higher inflation rate and higher interest rates in 2012 and 2013, but that's what Lombardi sees. "This is a similar situation to 2005 where it was difficult for people to understand that the real estate market would crash. The 10-year old bull market in gold is screaming 'Higher inflation rate ahead!'"
Profit Confidential, which has been published for over a decade now, has been widely recognized as predicting five major economic events over the past 10 years. In 2002, Profit Confidential started advising its readers to buy gold-related investments when gold traded under $300 an ounce. In 2006, it "begged" its readers to get out of the housing market... before it plunged.
Profit Confidential was among the first (back in late 2006) to predict that the U.S. economy would be in a recession by late 2007. The daily e-letter correctly predicted the crash in the stock market of 2008 and early 2009. And Profit Confidential turned bullish on stocks in March of 2009 and rode the bear market rally from a Dow Jones Industrial Average of 6,440 on March 9, 2009, to 12,876 on May 2, 2011, a gain of 99%. To see the full article and to learn more about Profit Confidential, visit http://www.profitconfidential.com.
Profit Confidential is Lombardi Publishing Corporation's free daily investment e-letter. Written by financial gurus with over 100 years of combined investing experience, Profit Confidential analyzes and comments on the actions of the stock market, precious metals, interest rates, real estate, and the economy. Lombardi Publishing Corporation, founded in 1986, now with over one million customers in 141 countries, is one of the largest consumer information publishers in the world. For more on Lombardi, and to get the popular Profit Confidential e-letter sent to you daily, visit http://www.profitconfidential.com.
Michael Lombardi, MBA, the lead Profit Confidential editorial contributor, has just released his most recent update of Critical Warning Number Six, a breakthrough video with Lombardi's current predictions for the U.S. economy, stock market, U.S. dollar, euro, interest rates, and inflation. To see the video, visit http://www.profitconfidential.com/critical-warning-number-six.
# # #