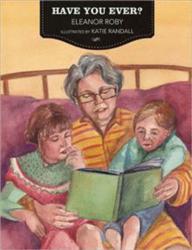 Plain City, OH (PRWEB) November 18, 2011
Children today live in the wonderful and exciting time of ever-changing electronics, with a gadget always at their fingertips. A need, however, exists for children to explore, imagine, pretend, read and listen to the sounds around them, carry on conversations, and freely experience and touch life. To excite children to read once again, author Eleanor Roby has penned a new book of children's short stories, Have You Ever? (published by WestBow Press).
In the story, "A Day of Surprises," Andrew, who has two imaginary friends named Big Todd and Tapioca, lives in the country at the end of a long lane. Andrew has quite the unusual day as he found a lion peering into the window, an elephant stepped onto the porch, and a monkey was swinging tree to tree. An accident nearby provided wild animals on the loose and Andrew's own private circus!
In "A Ghost," Joel and his brother rode their bicycles to their grandmother's house to visit and play games. While their grandmother finished her laundry, the boys went to explore the barn and to see the animals. When returning to the house they stopped by the huge sandbox in the corner of the yard that Grandpa had built. While in the sandbox, however, the boys face a turn of events that cause some exciting and scary moments. Could it possibly be a ghost?
Have You Ever? is a must-have collection for young children. It will not only entertain them, but also inspire them to turn off the videogames and sit down with a good book.
About the Author
Eleanor Roby was born and raised in the rich farming and rural area of Central Ohio. Roby's love for God has inspired her involvement in numerous teaching and leadership positions over the years with youth and adults in her church and local community. She has enjoyed using her imagination and gift of storytelling to share God's love.
WestBow Press is a strategic self-publishing alliance of Thomas Nelson, the world's premier Christian publisher, and Author Solutions, Inc. (ASI)—the world leader in the fastest-growing segment of publishing. Through this partnership, authors benefit from the rich publishing heritage of Thomas Nelson and the speed-to-market advantages of the ASI self-publishing model. Titles published through WestBow Press will be evaluated for sales potential and considered for publication under the Thomas Nelson imprint. For more information, or to start publishing today, visit westbowpress.com or call 866-928-1240.
###