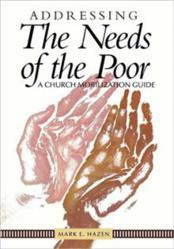 Nashville, TN (PRWEB) November 18, 2011
CrossBooks, a division of LifeWay Christian Resources, today announced a fresh and timely new resource designed to assist churches and individuals in establishing and expanding outreach ministries to those in need. "Addressing the Needs of the Poor: A Church Mobilization Guide", authored by Mark E. Hazen of Ocala, FL, carefully motivates, educates and empowers the reader to engage in the battle against America's growing poverty.
On September 13, 2011, the U.S. Census Bureau announced that an additional 2.6 million people have fallen into poverty over the last year in the United States, amassing 46.2 million living below the poverty line – the highest amount in 52 years.
America is in crisis with Income down and poverty up while government public assistance is being pulled back.
"Addressing the Needs of the Poor: A Church Mobilization Guide" presents timely solutions to this dilemma, covering not only "what", but "how". Hazen first establishes a Biblical foundation for action, then guides the reader to an understanding of the various types of poverty and the groups who live it.
Hazen presents actual interviews of people who live in poverty so the reader can gain a better understanding of their experiences and sufferings. The reader is then ready to explore specific needs of the poor with suggestions on how individuals and churches can address each need.
Real examples of church ministries, both large and small, serve as models and resources to further enable the reader. Hazen completes the guide by sharing collective wisdom for engaging the poor.
About the Author
Mark E. Hazen is an accomplished writer gifted in making the complex simple. He is best known for his college-level textbooks, but is also widely published in professional publications around the world. Now retired, Hazen and his wife, Sharon, have embarked on a mission to help the poor and assist others to do the same. Visit him online at http://www.benevolence-support-services.com.
CrossBooks, a division of LifeWay Christian Resources of the Southern Baptist Convention, is a Christian publishing imprint committed to bringing more Christian voices into the publishing industry. Established authors, first-time authors, and authors anywhere in between can meet their goals and fulfill their vision for their books by publishing with CrossBooks. CrossBooks' innovative style of publishing blends the best of traditional and self-publishing. While our authors contribute monetarily to cover the cost of publishing, we maintain a strict moral and quality standard that every manuscript must meet for us to publish. For more information on publishing your Christian book with CrossBooks, log on to crossbooks.com or call 1-866-879-0502.
###