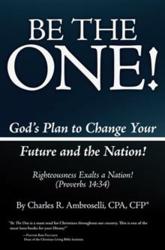 Smyrna, GA (PRWEB) November 18, 2011
In the new book, "Be the One! (published by CrossBooks), author Charles R. Ambroselli, CPA, CFP® challenges and inspires all Christians to be the one that God uses to restore our nation back to its biblical foundation. According to Mr. Ambroselli, "If the United States wants to overcome its current challenges and continue to be a global leader, everyone must turn from their unproductive ways and seek after God's plan for their lives."
The Bible says that "Righteousness exalts a nation!" (Proverbs 14:34). According to Mr. Ambroselli, "Righteousness is being in right relationship with God. Our nation has dishonored God by suppressing His Truth and violating His commandments. America needs to be the one nation under God for the glory of God. It was faith that established this great nation and faithfulness will be the one thing that restores it."
"Be the One!" not only inspires individuals towards personal victory, but also provides a plan to restore the nation to preeminence and godliness. The book's timely message provides readers with the:

The inspiration, knowledge, and wisdom necessary to change their future.
A divine perspective on life's purpose.
Identifies why most Christians are not achieving their goals and purposes.
Identifies the activities and behaviors that prevent personal growth.
A plan to re-establish our nation's Christian foundation and preeminence.
About the Author
Charles R. Ambroselli, CPA, CFP®, is the founder and pastor of Kingdom at Mount Zion Family Church in Marietta, Georgia, and is the proud father of three beautiful girls. He is a certified financial planner, a certified public accountant, and a Qualified Kingdom Advisor™. Charles earned a bachelor's and a master's degree in business administration from Saint Bonaventure University. Both degrees are concentrated in accounting and finance. Currently, Ambroselli is a doctoral student at Christian Leadership University. He also has completed academic programs at College for Financial Planning and at the Christian Living Bible Institute. If interested, contact the author at: (Tel) 404-808-6812/ (Email) charlieambroselli(at)yahoo(dot)com / http://www.ubetheone.com.
CrossBooks, a division of LifeWay Christian Resources of the Southern Baptist Convention, is a Christian publishing imprint committed to bringing more Christian voices into the publishing industry. Established authors, first-time authors, and authors anywhere in between can meet their goals and fulfill their vision for their books by publishing with CrossBooks. CrossBooks' innovative style of publishing blends the best of traditional and self-publishing. While our authors contribute monetarily to cover the cost of publishing, we maintain a strict moral and quality standard that every manuscript must meet for us to publish. For more information on publishing your Christian book with CrossBooks, log on to crossbooks.com or call 1-866-879-0502.
###