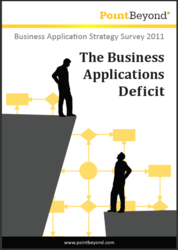 66% of organisations surveyed believe that technology is constraining their growth and profits, and 52% regret the decision to select at least one application and are now living with the consequences
London (PRWEB UK) 21 November 2011
The Business Applications Deficit is the latest whitepaper from application specialists PointBeyond and confidently provides a unique insight into Business Application Strategy in the UK. Research led and technology neutral, the whitepaper makes compelling reading for both IT and business leaders and is supported by headline facts such as 66% of organisations surveyed believe that technology is constraining their growth and profits, and 52% regret the decision to select at least one application and are now living with the consequences.
In September 2011, over 200 IT decision makers from large organisations were invited to participate in PointBeyond's Business Application Strategy Survey, answering a series of detailed questions on the issues impacting the delivery of business applications in their organisations.
Based on the survey responses, PointBeyond's new whitepaper, The Business Applications Deficit, provides expert analysis and commentary on the results. The author and Managing Director of PointBeyond, Dr Ian Woodgate, also introduces the new concept of the Business Applications Deficit – the gap between the applications businesses need to be successful and competitive and the reality they are facing in today's challenging environment.
Applications are essential to running a successful business and in the whitepaper PointBeyond provides further guidance and information on:

Getting business application delivery right first time
The issues facing IT decision makers in large organisations
The importance of having an application strategy
Improving the success rate of business application projects
Delivering applications efficiently and cost effectively
Organisations have never been so spoilt for the choice of tools with which to deliver their applications. However, in the absence of an application strategy and without being able to measure the ROI of application projects, PointBeyond suggest that many organisations are compromising their ability to succeed. By contrast, organisations that think and act strategically will engage more effectively with new technologies and be able to deliver better applications more quickly and at lower cost.
You can download your copy of the Business Applications Deficit here (or visit http://www.pointbeyond.com/applications/Business-applications-deficit-whitepaper.aspx)
About PointBeyond:
PointBeyond is a successful and growing Microsoft SharePoint consultancy based in the UK. The PointBeyond team specialises in delivering business applications based on the SharePoint platform. PointBeyond has experience of working with clients across a range of industries including finance, government, manufacturing, petrochemical, professional services, retail and engineering.
About the Business Applications Strategy survey:
The survey was conducted for PointBeyond throughout September 2011 by Redshift Research using their survey panel of business and IT professionals. 209 interviews were conducted in UK organisations with over 250 staff. Respondents were working in a variety of industries including Professional Services (22%), Manufacturing (15%), Retail (10%), Financial Services (10%), Government (9%) and Education (7%).
###