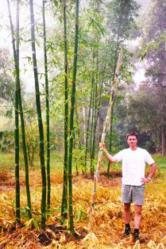 Bamboo Water Usage - VolkerKleinhenz.com
Phnom Penh, Cambodia (PRWEB) November 18, 2011
The paper on "Estimating water usage of bamboo" is based on the tremendous requirement for information about water usage of bamboo. Commercial producers of bamboo seek figures for selecting suitable locations for plantations and estimating irrigation requirements. Other groups including governmental agencies, environmentalists and private households are interested in estimating water consumption of bamboo for wastewater dissipation. Since water usage of a crop is the product of total leaf area and transpiration rate data from over hundreds of scientific publications suggest that the capacity for transpiration of a mature bamboo plantation is 3,285 millimeters of water. This figure is based on a yearly transpiration rate of 0.04 milliliter of water per square meter of leaf area and second, and a leaf area index of 7.5 square meters of leaf area per square meters of soil surface. It follows that one mature plant of a clumping species may transpire 132,000 liters of water per year.
The report on "Improved management practices for culinary bamboo shoots - local and export markets" published by Australia's Rural Industries Research and Development Corporation (RIRDC) covers the results of bamboo irrigation trials on southern Queensland's coast and shows that supplementary irrigation of 500-800 mm during August-October increased bamboo shoot yields two to three fold. Different irrigation rates exhibited tremendous differences in bamboo yield and there was also indication that steady supply of non-excessive water volumes during the shoot season benefited bamboo production. Data from Northern Territory show the close association between timing of precipitation and shoot production in bamboo and data from Queensland suggest that water just prior and in the shoot season should reach 1,000 mm for high shoot yields.
Besides providing an overview of his scientific publications, his homepage includes Volker's updated Curriculum vitae which now includes his latest assignments as a referee for the premium international agricultural journal Scientia Horticulturae and the Journal of Agriculture and Rural Development in the Tropics and Subtropics (JARTS).
These details are also available at Dr. agr. Volker Kleinhenz's LinkedIn profile, his homepage at the Asian Institute of Technology (AIT) in Thailand and his Twitter account @VolkerKleinhenz.
###