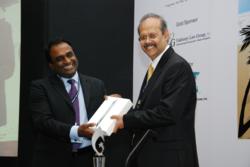 "For over two decades, Sruti has helped shape the way that Indian and global professionals address, manage and strategize for success in a transnational business environment." - Umesh Vaidyamath, CEO INSZoom
Bengaluru, India (PRWEB) November 18, 2011
INSZoom Immigration Conference Brings Together Immigration Leaders to Discuss Current and Future Trends in Global Mobility
Nearly two hundred immigration and human resource professionals gathered this November 3 at Bengaluru, India to discuss the future of global immigration. The event was organized and sponsored by INSZoom.com, Inc., the world's leading provider of technology solutions for immigration professionals.
"Each year, the attendees and presenters at the INSZoom Immigration Conference astound me with the breadth and depth of their knowledge of the industry," said Umesh Vaidyamath, CEO of INSZoom and a key speaker at the conference. "This event gives all of us a place to share our knowledge about immigration and work together to find better ways to manage mobility in the future."
The Fifth Annual INSZoom Immigration Conference brought together professionals from many of the world's top corporations to focus on the status of immigration today and its relationship to global business.
"It is a great effort from INSZoom to bring together so many immigration professionals and attorneys at one event," said Stella Nagesh, Associate Vice President and Lead – Immigration Services, Mphasis, and presenter at the conference. "A platform like the INSZoom Immigration Conference helps all the participants and delegates share and learn about best practices in immigration, as well as enhance and enrich their knowledge of the industry."
Shaheed Khan, Associate Director- Tech Mahindra one of the Speakers at the conference said, "INSZoom is one of finest event for Immigration HR specialist. It is a platform for Immigration and HR specialists of IT/ITES entities to share, interact, learn and unlearn pertinent inputs. Considering the ever changing face of immigration, the INSZoom conference adds immense value to the knowledge repertoire."
The conference, which grows in participation and status each year, covered a range of topics, including mobility issues in the United States, U.K., Canada, Australia, Switzerland and India, and included power sessions on popular business visas, including the Blanket L visa. Lawyers from leading immigration law firms including Fragomen, Bomza Law Group, Greenberg Turner, and Fakhoury Law Group participated in this year's conference as well.
"This year's conference was a tremendous event," said Sheeran Biju, Specialist – Visa and Travel, ITC Infotech India Limited, and presenter at the conference. "It was an ideal platform for professionals to meet and discuss the challenges of today's immigration industry."
"The INSZoom Immigration conference was an exceptional event with great presentations, and fantastic presenters delivering lots of actionable items," said Palanivelrajan A, Manager, Visas and Immigration, Sonata Software Limited. "The conference gave us access to many networking opportunities with high caliber leaders in the industry. We are already looking forward to next year's conference."
The high point of the Fifth Annual INSZoom Immigration Conference was the presentation of the first ever Immigration Professional Award to Sruthi Sagar Ananthachari, Director of Corporate Shared Services India, CSC. Sagar is a leader in the immigration industry and regularly speaks on topics of current and future trends in human resources and mobility strategies.
"No person more than Sruthi deserves this first award," said INSZoom's CEO Umesh Vaidyamath. "For over two decades, he has helped shape the way that Indian and global professionals address, manage and strategize for success in a transnational business environment."
INSZoom hosts the Immigration Conference each year in Bengaluru, where the company's technical, human resources and customer support offices are located. The company, which is headquartered in San Ramon, California, and also has offices in London, UK, has been the preferred technology partner for the world's largest corporations and immigration law firms for over a decade.
Learn more about INSZoom at http://www.INSZoom.com and the INSZoom Immigration Conference at http://www.INSZoom.com/events/.
About INSZoom: INSZoom, Inc. (http://www.inszoom.com), is the world's largest immigration software company, with offices in San Ramon, CA, US; London, UK; and Bangalore, India. Founded in 1999, the company has been helping corporations, enterprises, law firms, and consultants with the right software in case initiation, workflow, management, I-9 and E-Verify compliancy for more than a decade. As a Microsoft Certified partner, INSZoom provides clients with leading-edge technology, flexible platforms, and superior compliancy management tools. INSZoom today includes Microsoft, Motorola, and other leading firms as clients. For more information, please contact press(at)inszoom(dot)com.
###