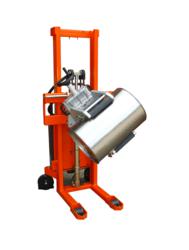 The drum clamp attachment from Packline Materials Handling is designed to lift and rotate drums by the circumference.
(PRWEB) November 21, 2011
The new drum handling equipment with clamp attachment from Packline Materials Handling can handle a wide range of drum types and sizes.
This heavy duty range of drum handling equipment fitted with the drum clamp attachment is designed to grip and handle drums by the circumference and rotate to any position through 360° degrees.
Fitted with a quick release system, the drum handling attachment can easily be attached to any heavy duty stacker truck fitted with a 'Flexline Carriage'.
This range of drum handling equipment can be made to order depending on customer requirements:

Available as manual or geared rotation.
Load capacity up to 1200kg.
Interchangeable jaws - pre-shaped pads enable the right drum handling solution to be specified for each individual application.
Suitable for load diameters of up to 850mm as standard.
Built-in slip torque mechanism to ensure correct gripping pressure is applied preventing over tightening and damage to the drum.
Packline Materials Handling offer a wide range of lifting and handling equipment, including roll lifting and drum handling equipment, designed to reduce injury to operating personnel, downtime and damage during transportation of stock from storage to processing machinery.
The drum handling equipment is available in a wide range of frame and attachment configurations. Mechanical or powered lift is available as well as models incorporating powered propulsion.
The full range of the drum lifter's flexible design, coupled with the range of lifting attachments, provide a comprehensive solution for handling loads up to 1200kg.
Along with the standard range of drum handling equipment, Packline Materials Handling provides a full bespoke design to manufacture service to meet customers' individual requirements.
Packline Materials Handling has been designing and manufacturing lifting and handling equipment since 1993. The 'Compac' range of stainless steel roll and drum handling equipment has established Packline as a leading supplier of materials handling equipment for the food, drinks, dairy, pharmaceutical and medical processing industries.
The 'Compac' range of stainless steel lifting and handling equipment, coupled with the comprehensive range of interchangeable attachments, provides handling solutions for most applications found in today's production environments.
Packline are also suppliers of mild steel and stainless steel heavy duty lifting and handling equipment for handling drums and rolls of material. This range of lifters is available with bespoke lifting attachments suitable for heavy duty roll and drum handling, to suit both warehouse and industrial needs.
For further information drum handling equipment with drum clamp attachment or the full range of lifting and handling equipment, please contact Packline Materials Handling on +44 (0)1202 307700 or visit http://www.packline.co.uk.
Packline Ltd
Unit 28
Newtown Business Park
Ringwood Road
Poole
Dorset
BH12 3LL, UK
For a full list of worldwide distributors please visit Packline's website.
###